Indian opener Gautam Gambhir [ Images ] underwent an MRI scan in London [ Images ] and word is still awaited on his fitness ahead of the limited overs series against England [ Images ] commencing with a one-off Twenty20 [ Images ] match on August 31.
The team management is keeping its fingers crossed as Gambhir is critical to India's [ Images ] plans in the ODIs now that his fellow opener Virender Sehwag [ Images ] has been completely ruled out for the remainder of the series.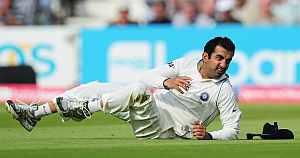 Gambhir suffered the concussion after he backpedalled at mid-on in a bid to catch a miscued pull shot by Kevin Pietersen [ Images ]. The chance was fluffed when Gambhir fell back and hit his head on the ground.
The present series has been one of misfortune for Gambhir. He was painfully hit on his right elbow while fielding at forward short leg during the first Test at Lord's last month.
He subsequently had to miss the second Test at Trent Bridge. He did play the third Test at Edgbaston and scored 38 and 14 in the two innings.
He was victim to bad luck again when in the final Test he scored 10 and 3 coming low down the order following the fall.
Captain Mahendra Singh Dhoni [ Images ] later revealed that Gambhir was suffering from blurred vision as a result of the fall.