Eoin Morgan feels that England have enough variation and quality in their bowling attack to trouble the star-studded India batting line-up in the upcoming four-Test series beginning at Lord's next week.
"I think we do (pace attack). We have proved over the winter how we take our wickets, we build pressure and put the batsmen under pressure to score runs," said the English batsman.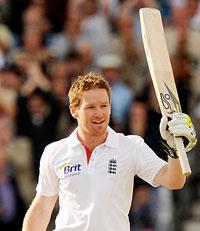 "Runs are going to be key. I don't think we can look too far ahead in regards of comparing the two sides because they have a lot of legends of the game playing and guys who are at the back end of their career after having magnificent careers.
"We can't look too far ahead of ourselves; we have got to do our own things and do it the way we do it. If we can pile on the runs and take wickets, we will do exceptionally well," he said.
The 24-year-old Morgan said that the hosts have to utilise their own conditions to the fullest in an attempt to catch the world No 1 Test side off guard.
"It is an advantage, particularly over here in England. There's no conditions like it in the world, especially if we prepare pitches that are conducive to swing, bounce and seam," Morgan was quoted as saying on ecb.co.uk.
With India boasting the likes of Zaheer Khan, Praveen Kumar, Sreesanth, Munaf Patel and Ishant Sharma, the left-hander knows how important it is to contain the tourists' attack if England are to be successful in this series.
"They have an exceptional bowling attack. Bowlers win Test matches more than anything else and to get to a position that they have done, their bowlers have bowled out a lot of teams," he said.
 Morgan said the hosts are in excellent shape ahead of the mouth-watering series.
"A lot of our preperation so far this summer has been building towards it. With the momentum we've had over the last year and a half or so, we feel that we are in a good position and we're ready for a good test and there's no bigger test than the number one side in the world," he said.
Morgan is also encouraged by his own performances leading into the series.
"I've felt in good form now for a while. It's exciting, more than anything else, and certainly the position I'm in at the minute and the position the team is in, we feel that it will be a great test and we will have to play exceptionally well to beat them."
Morgan scored 168 runs in the recently concluded series against Sri Lanka at an average of 56. England won the three-match series 1-0.