First it was do it for Sachin. Now that the Boys in Blue have done it for their beloved
Paaji
, there is a clamour to award Tendulkar the Bharat Ratna.
The campaign started somewhere around the time Sachin hit his 50th Test hundred, and has steadily gained momentum ever since.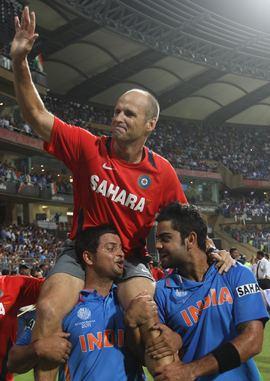 Somewhere amid all the hoo-ha after the World Cup triumph, a distinguished man was quietly packing his bags to go home to his wife and kids after having spent three years in India, an alien environment from his native South Africa.
In these three years, Gary Kirsten gave his all to Indian cricket, throwing down millions of balls to its famed batsmen, lending a shoulder to the mercurial tyros in the team and in general bringing a calming effect and planting self belief in this supremely talented outfit.
He has taken the Indian team to dizzying heights it was always capable of, but never before achieved.
Yes, folks, Gary Kirsten sent the Indian cricket team soaring into orbit.
As he leaves Indian shores after a selfless three years, we believe he deserves a Padma Shri.
Check out Team India's major successes during Kirsten's tenure
Photograph: Getty Images