A busy cricketing schedule has led to Indian team captain Mahendra Singh Dhoni failing to even appear in the first semester examination of Bachelor of Commerce degree after enrolling himself for the course five years ago at a city college.
Dhoni, who enrolled in B. Com in 2008 at St Xavier's College in Ranchi, could not clear even one of his six semesters, "absenting" from examinations due to busy cricketing schedule, and his results in the first semester had been marked as absent.
- MS Dhoni's final chance to save his Test captaincy
"Yes, he (Dhoni) would have been among the students who got the degrees," Principal Nicholas Tete said, after giving away degrees to 1,790 students of his St Xavier's College on the occasion of the fourth Graduation Ceremony on Monday.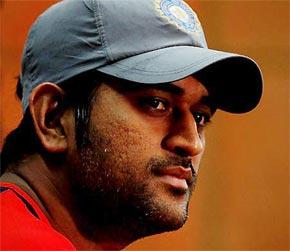 "Dhoni registered for the three-year course in 2008, which is effective for five years. And he can renew afresh, (if he wants to complete the course)," Tete said.
"We had prepared study material for his first semester and sent them to him. (But) he did not respond," he said.
Dhoni, who has Office Administration and Secretarial Practice as his subjects in B. Com, had completed Plus-II in 1999.
"A teacher feels good giving away degrees to successful students, and the students feel happy after completing a course successfully," Dean Jayant Sinha, one of the teachers in the college, said, adding happiness would have been doubled had Dhoni completed the course and got the degree.
"However, he can complete the course in future. Education is a continuing process," Sinha said.
The degrees were given to the batch of 2008-11, when Dhoni had registered for the course, he added.