India 'A' stand on the verge of a probable series defeat after suffering yet another batting collapse in the second innings against West Indies 'A', on the third day of the third and final unofficial cricket Test, in Gros Islet, St Lucia, on Tuesday.
After conceding a crucial 106-run first innings lead, India's top-order again disappointed, as the visitors ended the day at 181 for 7 in their second essay, still trailing the home team by 75 runs.
After India's first four wickets fell cheaply for just 35 runs, Manoj Tiwary showed some resilience with a gritty 62 off 119 balls to take the visitors forward in the company of wicketkeeper Wriddhiman Saha.
At stumps on Day 3, Saha was unbeaten on 48; giving him company was Shami Ahmed, on 16.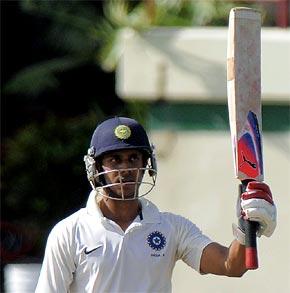 For the hosts, the pace duo of Delorn Johnson and Kevin McClean scalped three wickets each.
With a healthy first innings lead on their side, Johnson and McClean bowled aggressively to put the hosts on top. Johnson, who has dismissed Abhinav Mukund four times on the tour so far, had his man again when he got the out-of-form India opener to edge one to 'keeper Devon Thomas.
Mukund's sequence of scores on the tour read a poor 0, 0, 8, 8, 10 and 20.
The Chennai batsman's dismissal was followed by rain, forcing the players to walk off the field at the Beausejour stadium.
On resumption, India were dealt another blow, as Ajinkya Rahane had no answer to a perfect outswinger by Johnson. India were 23 for two when Rahane gave Thomas his second catch of the day.
There was another setback in store for the visitors as in-form skipper Cheteshwar Pujara too failed to make a substantial contribution, thanks to a brilliant catch by Kieran Powell at gully off McClean's bowling.
Rohit Sharma also perished soon, handing a catch to Kyle Corbin to give Johnson his third wicket of the day. But then Tiwary and Saha forged a 95-run fifth-wicket stand to take India forward before the former fell lbw to McClean.
Jalaj Saxena was McClean's third victim before leg-spinner Devendra Bishoo cleaned up Akshay Darekar to pick his first wicket of the innings.
India 'A' had won the first unofficial Test by two runs before the West Indies 'A' levelled the series with a thumping 125-run victory in the second match.
Scorecard
India 'A' (1st innings): 230
West Indies 'A' (1st innings): (overnight 320-8)
K Brathwaite c Saha b Awana 15
K Powell c & b Ahmed 139
K Corbin st Saha b Darekar 26
N Bonner c Rahane b Saxena 23
J Carter lbw Saxena 0
D Pagon c & b Saxena 30
D Thomas c Tiwary b Ahmed 50
*V. Permaul c Tiwary b Awana 3
K. McClean c Saha b Awana 19
D Johnson c sub (Shikhar Dhawan) b Ahmed 4
D Bishoo not out 7
Extras: (b1, lb12, nb7) 20
Total: (all out; 112 overs) 336
Fall of wickets: 1-37, 2-91, 3-142, 4-142, 5-209, 6-287, 7-294, 8-312, 9-320, 10-336.
Bowling: Ahmed 26-5-75-3, Awana 23-5-81-3, Darekar 21-8-63-1, Rohit Sharma 15-2-49-1, Saxena 27-8-55-3.
India 'A; (2nd innings):
A Mukund c Thomas b Johnson 20
A Rahane c Thomas b Johnson 2
R Sharma c Corbin b Johnson 2
*C Pujara c Powell b McClean 5
M Tiwary lbw McClean 62
W Saha not out 48
J Saxena c Bishoo b McClean 2
A Darekar b Bishoo 15
S Ahmed not out 16
Extras: (b3, lb3, w2, nb1) 9
Total: (7 wkts, 67 overs) 181
Fall of wickets: 1-22, 2-23, 3-28, 4-35, 5-130, 6-132, 7-155
Bowling: Johnson 21-7-43-3, McClean 16-6-47-3, Carter 12-8-11-0, Permaul 9-0-40-0, Bishoo 8-2-28-1, Bonner 1-0-6-0.
Toss: West Indies 'A'
Umpires: Peter Nero, Nigel Duguid.
Photograph: windiescricket.com