Left-arm seamer Delorn Johnson and skipper Veeraswamy Permaul wreaked havoc as West Indies 'A' thrashed India 'A' by 125 runs in the second unofficial Test and levelled the three-match series at 1-1, in Arnos Vale, St Vincent, on Tuesday.
Chasing a target of 220, the young Indian batting line-up never got going and were bundled out for a paltry 94, as Johnson (six for 34) and Permaul (four for 22) shared the spoils.
- Photos: Johnson, Permaul rout India 'A'
Permaul had impressive match-figures of nine for 80 to show for his efforts while Johnson returned with figures of eight for 62.
Such was the domination by the Caribbean duo that the match ended well before lunch on the final day after India 'A' lost six wickets for 37 runs.
The 6 feet 7 inches tall pacer troubled the Indian batsmen as he extracted sharp bounce and bowled at a good pace, while left-arm spinner Permaul got a lot of purchase from the wicket with the odd-ball keeping low and the rough patches assisting in turning the deliveries.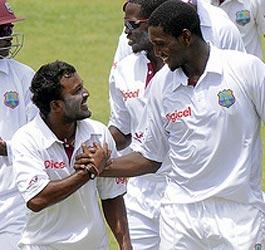 Starting the day at 57 for four, a lot depended on the pair of Rohit Sharma and Manoj Tiwary. Rohit started with a lofted boundary but then got a delivery that kept very low as he went on the backfoot and he was dsimissed for 13.
Wicketkeeper batsman Wriddhiman Saha (0) then got a beautiful arm-ball which he padded up to and was adjudged plumb leg before wicket.
Rahul Sharma was the next man dismissed. Johnson softened him up with a snorter and then bowled a full pitched outswinger, which the batsmen guided into the hands of the wicketkeeper, as the pacer got his maiden five-wicket haul in first-class cricket.
At 68 for seven, the end was near and Tiwary ran out of patience as he pushed hard at a Permaul delivery which was gleefully accepted by Jonathan Carter standing in the second slip to leave his team reeling at 70 for eight.
Akshay Darekar, Shami Ahmed and Ashok Dinda failed to delay the inevitable as the hosts completed an easy victory.
The third and final match of the unofficial Test series will start in St. Lucia on Saturday.
Scorecard
West Indies 'A' (1st innings):
Kraigg Brathwaite b Ahmed 66 (297 balls, 366 minutes, 7x4)
Justin Guillen c Tiwary b Ahmed 5 (15 balls, 28 mins 1x4)
Donovan Pagon b Rahul Sharma 11 (34 balls, 41 mins, 2x4)
Nkrumah Bonner st Saha b Darekar 25 (47 balls, 49, 4x4)
Jonathan Carter c Dhawan b Rohit Sharma 19 (42 balls, 45 mins, 4x4)
Kyle Corbin c Rahane b Dinda 13 (38 balls, 36 mins, 0x4)
Devon Thomas lbw b Rohit Sharma 5 (31 balls, 27 mins, 1x4)
Jason Holder c wk Saha b Ahmed 20 (34 balls, 30 mins, 1x6, 1x4)
Veerasammy Permaul b Dinda 36 (40 balls, 36 mins, 1x6, 5x4)
Delorn Johnson not out 3 (5 balls, 14 mins)
Devendra Bishoo lbw b Ahmed 2 (5 balls, 6 mins)
Extras: (b1, lb1, w1, nb9) 12
Total: (all out, 90 overs) 217
Fall of wickets: 1-13 (Guillen), 2-33 (Pagon), 3-71 (Bonner), 4-98 (Carter), 5-119 (Corbin), 6-130 (Thomas), 7-164 (Holder), 8-211 (Permaul), 9-213 (Brathwaite), 10-217 (Bishoo)
Bowling: Dinda 18-8-22-2, Ahmed 19-6-43-2, Darekar 20-4-59-1, Rahul 18-5-54-1, Rohit 14-4-31-2, Dhawan 1-0-1-0
India 'A' (1st innings)
Abhinav Mukund lbw b Holder 8 (16 balls, 18 mins 1x4)
Shikhar Dhawan b Johnson 0 (2 balls, 4 mins)
Ajinkya Rahane c Johnson b Permaul 18 (16 balls, 18 mins 1x4)
Cheteshwar Pujara c wk Thomas b Permaul 67 (170 balls, 156 mins 5x4, 1x6)
Rohit Sharma c and b Permaul 1 (11 balls, 9 mins)
Manoj Tiwary lbw b Johnson 23 (45 balls, 60 mins 1x4, 1x6)
Wriddhiman Saha c wk Thomas b Bishoo 20 (42 balls, 66 mins 4x4)
Rahul Sharma c Bonner b Permaul 30 (70 balls, 68 mins 4x4)
Shami Ahmed c Brathwaite b Carter 20 (32 balls, 33 mins 1x4, 2x6)
Akshay Darekar not out 2 (4 balls, 6 mins)
Ashok Dinda b Permaul 1 (2 balls, 2 mins)
Extras: (b1, lb7, w3, nb1)
Total: (all out) 202
Bowling: Johnson 13-3-28-2, Holder 8-2-21-1, Permaul 31.2-14-58-5, Carter 6-1-27-1, Bishoo 21-3-60-1.
Fall of wickets: 1-1 (Dhawan), 2-12 (Mukund), 3-86 (Rahane), 4-88 (Rohit Sharma), 5-115 (Pujara), 6-123 (Tiwary), 7-161 (Saha), 8-193 (Rahul Sharma), 9-201 (Ahmed), 10-202 (Dinda)
West Indies 'A' (2nd innings):
Brathwaite c Rohit Sharma b Darekar 21 (125 balls, 157 mins 3x4)
Guillen c Mukund b Ahmed 6 (19 balls, 34 mins)
Corbin c wk Saha b Darekar 16 (28 balls, 53 mins 1x4)
Bonner lbw b Darekar 5 (28 balls, 34 mins)
Carter c Mukund b Dinda 74 (97 balls, 103 mins 6x4)
Thomas lbw b Darekar 0 (8 balls, 6 mins)
Pagon c wk Saha b Darekar 67 (72 balls, 122 mins 4x4, 4x6)
Holder c Darekar b Rohit 0 (5 balls, 4 mins)
Permaul c Rohit b Darekar 2 (5 balls, 9 mins)
Johnson not out 5 (30 balls, 46 mins)
Bishoo c wk Saha b Rohit 0 (6 balls, 4 mins)
Extras (b2, lb3, nb3) 8
Total: (all out) 204
Bowling: Dinda 13-1-22-1, Ahmed 9-3-29-1, Darekar 24-9-67-6, Rohit Sharma 16.3-1-47-2, Rahul Sharma 8-3-25-0, Tiwary 1-0-9-0.
Fall of wickets: 1-11 (Guillen), 2-36 (Corbin), 3-48 (Bonner), 4-73 (Brathwaite), 5-81 (Thomas), 6-167 (Carter), 7-168 (Holder), 8-172 (Permaul), 9-203 (Pagon), 10-204 (Bishoo)
India A (2nd innings):
A Mukund lbw b Johnson 8 (18 balls, 32 mins)
A Rahane b Johnson 5 (11 balls, 12 mins 1x4)
S Dhawan b Johnson 8 (8 balls, 13 mins 1x4)
C Pujara c wk Thomas b Johnson 1 (9 balls, 11 mins)
Rohit Sharma b Permaul 13 (45 balls, 62 mins 2x4)
M Tiwary c Carter b Permaul 20 (62 balls, 97 mins)
W Saha lbw b Permaul 0 (3 balls, 2 mins)
Rahul Sharma c wk Thomas b Johnson 3 (11 balls, 18 mins)
Shami Ahmed c wk Thomas b Johnson 2 (15 balls, 22 mins)
A Darekar b Permaul 8 (20 balls, 31 mins, 1x4)
A Dinda not out 12 (16 balls, 20 mins, 1x4)
Extras (b5, w7, nb2) 14
Total: (all out) 94
Bowling: Johnson 17-4-34-6, Holder 7-2-28-0, Bishoo 3-1-5-0, Permaul 9.4-2-22-4
Fall of wickets: 1-13 (Rahane), 2-28 (Dhawan), 3-29 (Mukund), 4-30 (Pujara), 5-63 (Rohit Sharma), 6-63 (Saha), 7-68 (Rahul Sharma), 8-70 (Tiwary), 9-72 (Shami Ahmed), 10-94 (Darekar)
Result: West Indies 'A' won by 125 runs
Series: 1-1 with one match left at Beausejour, St Lucia
Photograph: West Indies 'A' skipper Veeraswamy Permaul (right) and pacer Delorn Johnson celebrate after beating India A by 125 runs
Photo Credit: windiescricket.com