India A struggled as they reached 145 for six in reply to South Africa A's first innings total of 341 at stumps on the second day of the second 'Test' in Pretoria, on Sunday.
Ambati Rayudu (14 batting) and Perveez Rasool (0 batting) were at the crease during close of play as the visitors need another 47 runs to reach the magic figure of 192 in order to avoid follow on.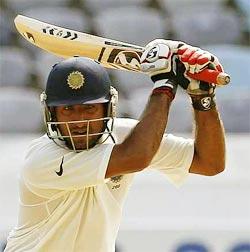 India lost five wickets for only 50 runs after being comfortably placed at 95 for one with skipper Cheteshwar
Pujara (54) well set. The moment Indian captain was dismissed by left-arm seamer Beuran Hendricks at the stroke of tea, the final session turned completely in favour of hosts.
The decision to rest premier batsmen Shikhar Dhawan, Suresh Raina and Rohit Sharma backfired badly.
Pujara looked solid during his innings of 54 as he hit five fours facing 97 balls. One cover drive off Wayne Parnell stood out.
Earlier, South Africa finished their first innings on 341 after being down in the dumps at 97 for six. Parnell (91) and Harmer (96) added 186 runs for the seventh wicket to take the Proteas to a position of safety.
Scorecard:
South Africa A 341 (Overnight: 231/6)
RR Hendricks c Saha b Pandey 2, D Elgar c Nadeem b Kaul 0, RR Rossouw c Pujara b Pandey 3, T Bavuma lbw b Parvez Rasool 42, JL Ontong c Vijay b Nadeem 28, TL Tsolekile c Nadeem b Parvez Rasool 13, WD Parnell c Saha b Pandey 91, SR Harmer lbw b Nadeem 96, KJ Abbott c Rahane b Nadee 1, ACR Birch not out 44, BE Hendricks b Kaul 10
Extras: (B-4, LB-4, NB-3) 11;
Total: (all out in 121 overs) 341;
Fall of wickets: 1-2, 2-2, 3-11, 4-51, 5-97, 6-97, 7-283, 8-285, 9-291, 10-341.
Bowling: IC Pandey 24-5-67-3; S Kaul 23-5-71-2; STR Binny 17-9-27-0; S Nadeem 33-9-99-3; Parvez Rasool 21-6-55-2; AT Rayudu 3-0-14-0.
India A 1st innings:
CA Pujara c Harmer b BE Hendricks 54, M Vijay lbw b BE Hendricks 4, AM Rahane lbw b BE Hendricks 36, KD Karthik c Rossouw b Harmer 9, AT Rayudu not out 14, WP Saha lbw b Abbott 14, STR Binny b Harmer 0, Parvez Rasool not out 0
Extras: (B-4, NB-10) 14
Total: (for six wickets in 51.3 overs) 145
Fall of wickets: 1-9, 2-95, 3-106, 4-122, 5-144, 6-145.
Bowling: KJ Abbott 14.3-5-42-1; BE Hendricks 14-7-28-3; WD Parnell 2-1-5-0; ACR Birch 7-2-23-0; SR Harmer 14-3-43-2.
Image: Cheteshwar Pujara