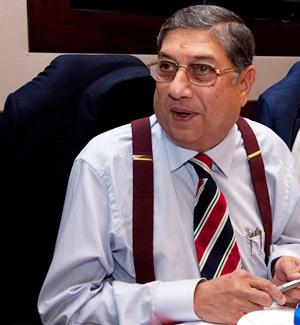 Defending the proposed structural revamp of the International Cricket Council, the BCCI said the plan, which would leave executive decision-making in the hands of India, Australia and England, is a "recognition" of the country's revenue generation capacity.

After the Board of Control for Cricket in India's Emergent meeting in Chennai on Thursday, which backed the overhaul plan first mooted by the ICC's Commercial Rights Working Group, Patel said it is a legitimate proposal.

"It's a recognition of India's involvement in cricket and revenue generation by India. We are asking the legitimate right and it would not shrink cricketing activity in any way," Patel said after the meeting, which was chaired by BCCI vice-president Shivlal Yadav after pesident N Srinivasan was forced to skip it because of his mother's demise on Thursday morning.

"There have been no objections so far. It's a question of understanding, not a question of power game. We are not asking more than what we should," he explained.

Cricket South Africa has spoken out against the plan, calling for an immediate withdrawal of the "fundamentally flawed" proposal.

It has also drawn criticism from the Federation of International Cricketers' Association Executive chairman Paul Marsh, who has called it unconstitutional.

The structural overhaul plan is set to be presented at the ICC's quarterly meeting in Dubai on January 28 and 29. It must have the support of seven of the 10 full member nations to be passed.

"The working committee apprised members of the ICC proposal and discussed the financial model. It approved the proposal. We are trying to approve many things which we have not done in the past," Patel said.

Patel said the Board did not discuss the speculation surrounding Srinivasan aiming for the ICC president's post.

"There's no such proposal," he said.

Another senior member of the Board, Jagmohan Dalmiya, said that the reforms in ICC will prove to be good for the game.

"Only time will tell whether the move would shrink cricket or expand the game globally," he said.
Image: N Srinivasan
Photograph: Jack Dabaghian/Getty Images