Good cricket mixed with bad blood makes for fine series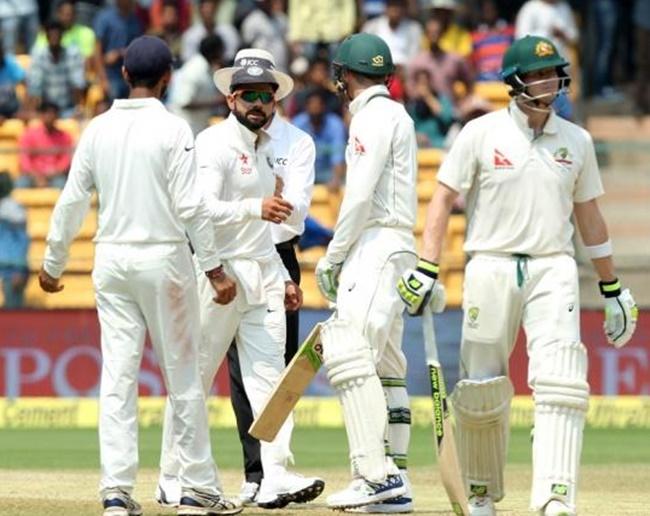 IMAGE: Virat Kohli captain of India and his counterpart Steve Smith had a brief but charged-up exchange of words. Photograph: BCCI
As India celebrate the return of the Border-Gavaskar Trophy from previous holders Australia, the overriding consensus is that the hosts maintained order between the sport's top two Test sides in a series that had everything.
Seldom has a tour been dragged deep into the gutter through tit-for-tat accusations of cheating and foul play only for it to rise magnificently in the wake of some quality cricket by the bitterest of antagonists.
"It was a magnificent series, one of the best I've been part of," Australia captain Steve Smith, a key protagonist in the series, said after his team finally succumbed to a 2-1 loss in the fourth and final Test on Tuesday.
Given their history, it seemed inevitable that tempers would flare between sides that endorse an identical brand of aggressive cricket when they met in Pune for the opener, which passed without incident barring a surprise win for the visitors.
The veneer cracked in the second Test, however, when all hell broke loose after Smith gestured to his dressing room whether to review an lbw decision against him during a tense but fruitless run chase in Bengaluru.
The 'brain fade' drew a predictable reaction from his feisty Indian counterpart Virat Kohli, who claimed it was but one of several similar breaches by the tourists, an allegation Australia summarily dismissed.
The incident quickly snowballed into a major crisis with both boards springing to the defence of their respective captains.
Bitterness returns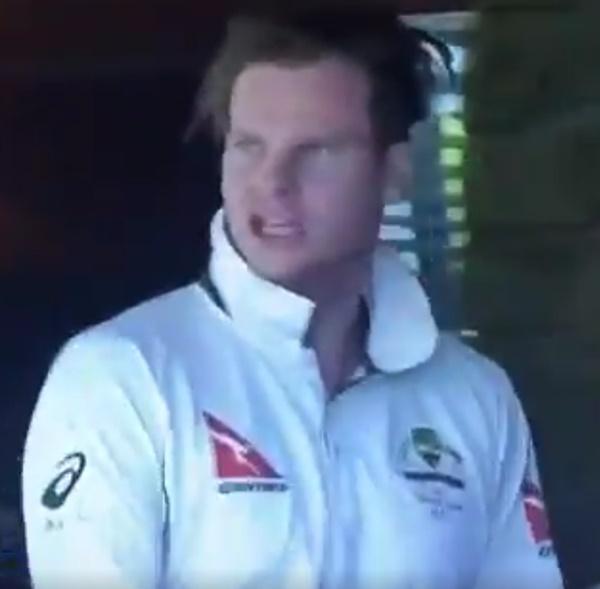 IMAGE: Video grab of Steve Smith abusing. Photograph: BCCI
The game's governing body moved quickly to douse the flames with a lenient view of the episode, which must have felt like deja vu for India coach Anil Kumble.
Kumble was captain of the Indian team who threatened to abandon their 2008 tour of Australia after Harbhajan Singh was found guilty of racially abusing Andrew Symonds, a conviction that was later overturned.
Match referee Richie Richardson sat Kohli and Smith down before the third Test, reminding them of their duty to uphold the spirit of the game.
The draw in Ranchi stood out for Cheteshwar Pujara's dogged resistance and Pat Cummins' successful return to Test cricket but the bitterness returned when Glenn Maxwell mocked Kohli for an injury that would keep him out of the series decider.
India prevailed in Dharamsala, the third new Test venue unveiled in the series, after some fine individual performances pushed the balance in the home side's favour, but there was little let up in the acrimony.
Ravindra Jadeja exchanged heated words with Matthew Wade and Smith was caught on camera mouthing abuse towards Murali Vijay after he claimed a clean catch that was overturned by the TV umpire.
"I have sort of been very intense in my own little bubble, and at times I have let my emotions and actions just falter a little bit throughout this series and I apologise for that," added Smith, the top scorer in the series.
Kohli, who endured a poor run with the bat, made no such conciliatory attempt, saying he was no longer friends with the Australian cricketers, many of whom he would be meeting in the Indian Premier League (IPL) next month.