New Zealand opening batsman Martin Guptill will miss the final One-Day International and Test series against England to undergo surgery on his left thumb, the country's cricket board said on Thursday.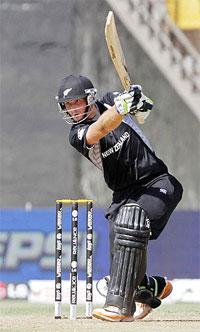 Guptill, who scored an unbeaten 27 to guide the hosts to victory while playing with a left hamstring strain in the first one-day international in Hamilton, will have surgery on the thumb ligament next week.
New Zealand physiotherapist Paul Close said while the batsman could have continued playing in the short term with the injury, which occurred earlier during the England series, he needed to have surgery at some point.
"We felt it was best to get Martin right for the tour to England in May and June, so the next couple of months were seen as the best window to have the surgery," Close said in a statement.
The three-match One-Day International series is tied 1-1 with the decider in Auckland on Saturday. The teams will also play three Test matches next month.