Virender Sehwag and Gautam Gambhir might not pair up as opening partners for the country again but the two senior players can still make individual comebacks, feels Sunil Gavaskar.
Gavaskar does not believe that Shikhar Dhawan and Murali Vijay's strong performances at the opening slots in the Mohali Test has entirely shut the door on Sehwag and Gambhir.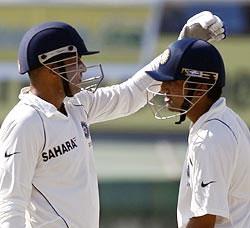 "Their partnership might have been over but not their international cereers. I think Sehwag and Gautam can still make it to the squad for South Africa tour," Gavaskar told NDTV on Sunday.
"I don't think Dhawan and Vijay's show in Mohali has shut the door on Sehwag and Gambhir. I can't say what the selectors will do but in South Africa (later this year) there would be room for four openers going there," Gavaskar said.
"You would need three openers and the fourth player can bat at number three. So I don't think that door has been shut on Sehwag and Gambhir."
Gavaskar said that India are favourites to win the third Test in Mohali as Ravichandran Ashwin can come up trumps on a fifth day track.
"Ashwin did not do well in the first innings and he is due a big haul in second innings tomorrow. The match is yet to be over and Indian can still win," he said.