To his team mates, Sourav Ganguly is simply "Dada", or big brother. His fans call him "Maharaj", or king.
But the India captain's crown is fast slipping from his head. Struggling with his own game, he appears to be finding it increasingly hard to inspire his team mates.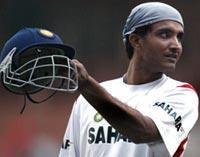 The 32-year-old, at the helm for almost five years, is India's most successful captain. Of his 19 Test wins, nine have come overseas. In the 68 years before he took over, the team had won a mere 13 matches abroad.
Even the staunchest admirers of his aggressive style of leadership, however, are starting to wonder if Ganguly the batsman is still worth a place in the team.
A man who started his career with a cover drive to die for and a century on his debut at Lord's, Ganguly has played 81 matches, scoring 4,946 runs at an average of 41.56 with 11 hundreds.
In recent seasons, however, he has looked less the part.
Even when scoring a century at Headingley and a 99 at Trent Bridge during India's tour of England in 2002, one of his best seasons, he was scratchy.
His problem against short bowling is well documented and though Ganguly is not short on determination he has not been able to master how to hook, pull, or duck himself out of trouble against the rising ball.
LAZY ATTITUDE
There has also been increasing comment over his poor fielding and lazy attitude towards fitness.
Indian supporters have always respected Ganguly but never really taken him to their hearts. Even at the best of times, Ganguly does not have an endearing personality. To people who do not know him well, he comes across as brash and abrasive, often stereotyped as a rich man prone to tantrums.
At Lancashire, where he played the English county season five years ago, his team mates found his so arrogant that they named him "Lord Snooty".
But there is no taking away from what he has achieved for India.
He picked up the team from the depth of a match-fixing scandal in 2000 and transformed them into a unit that could challenge the best in the world, beating Australia 2-1 at home the following year and then drawing 1-1 Down Under in 2003-04.
He remains a fine one-day international performer, his 22 centuries second only to Sachin Tendulkar.
Virender Sehwag, Harbhajan Singh, Zaheer Khan, Ashish Nehra, Yuvraj Singh and Mohammad Kaif -- all key members of the squad -- were championed by him, even when they lost form.
Now it is Ganguly, however, who has the problem.
LAST CENTURY
There was one monumental knock against Australia at Brisbane in December 2003 that showed he could still lead by example.
Promised some 'chin music' by the Australian quicks, Ganguly enjoyed every note on his way to a blistering 144 that set the tone for India's successful series.
That, though, was his last Test century.
In the second Test against Pakistan last week, Ganguly got involved in a personal battle with paceman Mohammad Sami, playing a horrendous pull to lose his wicket to a bouncer and put the team at risk.
Had it not been for vice-captain Rahul Dravid's 135, his second century of the match, that shot could have cost India a match they went on to win by 195 runs.
One school of thought, propagated among others by former captain Kapil Dev, is that the Test side should be handed over to Dravid and Ganguly should be dropped to make way for youngsters such as Kaif and Yuvraj.
Unless he can show more commitment in the field and come up quickly with knocks similar to his Brisbane innings, Ganguly could be fighting a losing battle.