A fine all-round performance from Darren Sammy helped West Indies crush Bangladesh by 75 runs in the fourth One-Day International in Dhaka on Friday to square the five-match series 2-2.
The home side had sensed a series win as their spinners left West Indies reeling on 79-5 before Sammy lifted the tourists to 211-9 from their 50 overs with an unbeaten 60 off 62 balls on a difficult Sher-e-Bangla pitch.
The all-rounder then took 3-28 as he shared the new ball with Kemar Roach (2-29) to reduce Bangladesh to 5-13 inside six overs, making the chase all but impossible for the home side.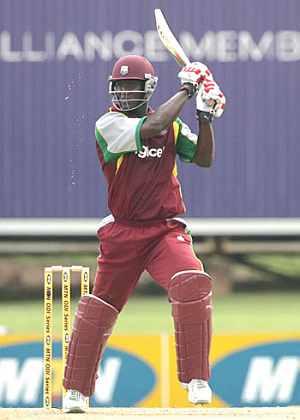 Mahmudullah and Mushfiqur Rahim dug-in to help them past their lowest ever total of 58, which came against West Indies at the same ground in the World Cup last year, but they could not bat their way to an unlikely comeback.
Sunil Narine ended their 74-run partnership when he had Rahim stumped for 27 and Bangladesh were eventually dismissed for 136 runs with more than 15 overs to play.
Mahmudullah remained unbeaten on 56, his second half-century for Bangladesh in as many matches.
A poor display in the field played a part in the hosts' defeat as they dropped a series of takeable catches with Sohag Gazi guilty of letting Sammy off the hook when he dropped him at square leg on 30.
The skipper helped West Indies add 81 runs in the last 10 overs.
Off-spinner Mahmudullah was the pick of the Bangladesh bowlers with 3-46, though left-arm spinners Elias Sunny (2-21) and Abdur Razzak (2-47) also made a contribution.
The series-deciding fifth ODI will be held at the same ground on Saturday.
Scoreboard
West Indies innings
C Gayle c Gazi b Mortaza 16
K Powell lbw b Sunny 26
M Samuels c Anamul b Sunny 27
D Smith b Razzak 0
D Bravo c & b Gazi 34
K Pollard c Rahim b Mahmudullah 2
D Thomas b Mahmudullah 10
D Sammy not out 60
V Permaul c Nasir b Mahmudullah 1
S Narine c Mominul b Abdur Razzak 13
K Roach not out 3
Extras: (lb-5 w-14) 19
Total (50 overs) 211 for nine wickets
Fall of wickets: 1-29, 2-71, 3-75, 4-75, 5-79, 6-102, 7-145, 8-155, 9-175
Bowling: Sohag Gazi 10-1-38-1; Mashrafee Mortaza 10-1-54-1(w-3); Abdur Razzak 10-1-47-2 (w-1); Elias Sunny 10-2-21-2; Mahmudullah 10-1-46-3 (w-8).
Bangladesh innings
Tamim Iqbal b Roach 1
Anamul Haque c&b Sammy 1
Naeem Islam c Bravo b Sammy 0
Mushfiqur Rahim st Thomas b Narine 27
Nasir Hossain c Thomas b Roach 2
Mominul Haque c Pollard b Sammy 1
Mahmudullah not out 56
Sohag Gazi c Thomas b Permaul 13
Elias Sunny b Permaul 0
Mashrafee Mortaza lbw b Smith 6
Abdur Razzak lbw b Smith 3
Extras: (lb-5 w-21) 26
Total (34.1 overs) 136 all out
Fall of wickets: 1-3, 2-3, 3-4, 4-7, 5-13, 6-87, 7-113, 8-113, 9-132, 10-136
Bowling: Kemar Roach 8-0-29-2 (w-7); Darren Sammy 8-1-28-3 (w-3); Sunil Narine 8-1-32-1 (w-2); Veerasammy Permaul 8-0-35-2 (w-1); Dwayne Smith 2.1-0-7-2.
West Indies won by 75 runs to level the five-match series at 2-2
Man of the match: Darren Sammy.