Former India left-arm spinner Sunil Joshi announced his retirement from all forms of cricket on Thursday.
The Karnataka played Test as well as One-day Internationals for India between 1996 and 2001. His most famous bowling performance came in an ODI against South Africa in the LG Cup in 1999 when he returned figures of 10-6-6-5.
Three years later, the feat was rated in Wisden 100 as the seventh best ODI bowling performance.
Joshi played 15 Tests, scalping 41 wickets. He took 69 wickets in 69 ODIs.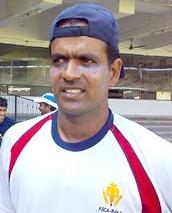 A useful batsman, he scored 352 runs and 1470 runs in Tests and ODIs respectively.
He represented Royal Challengers Bangalore in the 2008 and 2009 season of the Indian Premier League and was under contract till 2010.
At the state level, he played for Karnataka throughout his career.
In the 1995-96 Rajni season, he achieved an impressive double of scoring 500 runs and capturing 50 wickets.
He also played briefly for the Bedfordshire County Cricket Club in England during the 2004 season.
Addressing a press conference, where he announced his retirement, Joshi said he coached Hyderabad team last year and would grab an offer coming his way to coach Karnataka.
"Definitely my heart is here," he said.
"You need couple of years take up the job of coaching the home state so that the players will understand (me as a coach). Taking up coaching job soon after retirement will be a stumbling block where the players wouldn't be free to interact with the coach," he felt.
The 1998-99 Ranji final against Madhya Pradesh was his most cherished cricket moment of his life, Joshi said, adding that the opponents had taken the first innings lead and needed a draw to win the title, but collapsed in the final session of the last day and lost with five overs to spare.
"Vijay Bhardwaj made history for Karnataka. His form in 1998-99 domestic season when he scored 1,463 runs and grabbed 21 crucial wickets to help Karnataka defeat Madhya Pradesh in the Ranji final," he added.
Legendary spinner Anil Kumble said Joshi was a role model for young cricketers which is reflected in his unflinching commitment. This was evident when as a 15-year-old he used to travel 56 kms from a small town of Gadag to Hubli for practice everyday.
"Joshi's contribution to Karnataka cricket is invaluable," he said.
Kumble also hoped Joshi would continue contributing to cricket in the state by taking up the job of coaching teams.
Unraveling other skills of Joshi, former speedster Venkatesh Prasad said the left-armer was not only a good player, but also a good cook.
Batting legend Rahul Dravid lavished praise on Joshi, saying he was a great cricketer.
Former India fast bowler Javagal Srinath also hailed Joshi's contribution to cricket.