Sachin Tendulkar and Virender Sehwag were among those who slogged it out in the nets for batting practice while off-spinner Harbhajan Singh had a lengthy bowling drill as the Indian team went for two grinding training sessions for the second successive day in Bangalore on Sunday.
Tailenders Ishant Sharma and Ashok Dinda also batted with remarkable seriousness at the nets at NationalCricketAcademy. The duo batted for 45 minutes in turns apparently reflecting the Indian team's earnestness to help the tailenders improve their batting.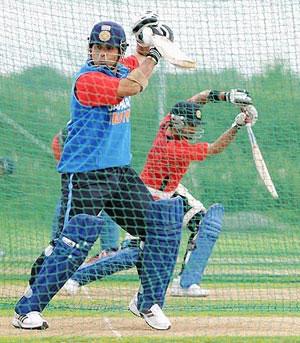 Harbhajan, who could play in his 100th Test, spent considerable time bowling at the top order batsmen at the Chinnaswany Stadium ground.
Later, he worked on his bowling at the NCA along with Team India bowling coach Joe Dawes for nearly an hour.
Harbhajan, who has 408 wickets in his bag in 99 Tests, is looking to join a select club of 100-Test players if he is picked in any match of the series.
After spending nearly three hours on fielding drill in the morning session, the Indian team concentrated on batting and bowling in the afternoon session lasting two hours.
Mahendra Singh Dhoni and his men will end their three-day training campMonday ahead of Test series against Australia starting in Chennai on February 22.
On Saturday, they had two separate practice sessions which lasted five-and-a-half hours.
The Indian players arrived at the ground around 2 pm on Sunday, clad in their blue practice outfits. Dhoni, Tendulkar, Sehwag, Chesteshwar Pujara, Ajinkya Rahane, Shikhar Dhawan, Murali Vijay, Ravindra Jadeja, Bhuvaneshwar Kumar and R Ashwin had batting practice in the afternoon session.
Seamers Ishant, Dinda and Bhuvneshwar Kumar bowled short spells, but spinners Ashwin and Pragyan Ojha rolled their arms for most part of the session.
In the morning session which lasted for three hours, Indian players went through a high-intensity training session with the main focus on fielding drills.
With pleasant weather prevailing in the city, the Indian players went through a rigorous fielding session at the stadium. As soon as the players arrived at the ground, they went through the customary loosening exercises which set the stage for an arduous fielding session for the next three hours.
The players, young and experienced, showed zeal and energy during the fielding session. They had close-in and boundary catching practice in three separate batches under the charge of coach Duncan Fletcher, fielding coach Trevor Penny and bowling coach Joe Dawes.
The players also had run-out drills.