Sachin Tendulkar once again failed to fire with the bat to leave his fans disappointed, during the first innings of the second Test against England in Mumbai, on Friday.
-Scorecard

Tendulkar was bowled for eight by Monty Panesar in the first session of the Test match after India had elected to bat.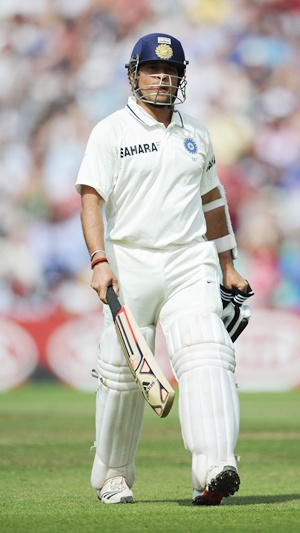 He leaned forward to play Panesar off the front foot but the ball spun right across him to knock back his off-stump.

The veteran's poor run in Test cricket continues. His last Test century came 22 months ago when he made 146 against South Africa in Cape Town in January 2011.

Since scoring 80 against Australia in Sydney in January this year, his scores in Test cricket read: 15, 8, 25, 13, 19, 17, 27, 13 and 8.

Interestingly, four out of his last five dismissals have been bowled.

Tendulkar has completed 23 years in international cricket and recently admitted that the thought of retirement has crossed his mind.

"I am 39 and I don't think I have plenty of cricket left in me. But it depends on my frame of mind and my physical ability to deliver. When I feel that I am not delivering what is needed, and then I will re-look at the scheme of things. I am already 39 and no one expects me to go on playing forever," Tendulkar told a news channel last month.

"When I play in November, I will reassess things," he added.
Photograph: Gareth Copley/Getty Images