It is his first Test as captain, and a tough one at that.
No wonder Alastair Cook has mixed feelings. While he is gung ho about leading the English side in the longer version, having done so with considerable success in the shorter versions, there's also an undercurrent of tension considering the magnitude of the assignment.
- The wicket will slow down: Dhoni
- India hoping to spin England out of series
"I am a bit nervous," he admits, before quickly adding, "But the overwhelming emotion is of great pride."
The 27-year-old, albeit, is at a loss of words to describe the overall feeling.
"It is quite hard to explain in words," he admits, adding, "It does change for you in the dressing room when you have more responsibility.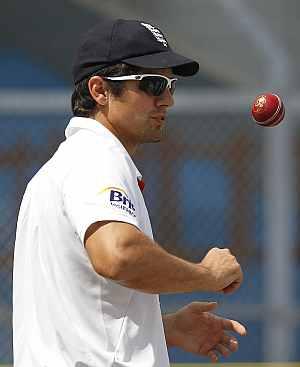 "It makes you think more."
The new Test captain is, though, far categorical regarding his team's course of action on this tour.
"We wanted to have as much practice as we could to get used to the conditions," says Cook, trying to explain the three practice matches ahead of the first Test.
"We would have liked to face more quality spinners, but, then again, that is something we have no control over," he adds.
The mental acumen associated with a Test is evident when Cook is quizzed about the Motera wicket.
"The wicket has changed a lot in the last 48 hours," he says, in a very categorical manner.
"I think the pitch has been re-laid," he continues, adding, "But we are ready for whatever is thrown at us.
"You are going to lose wickets in any game, no matter who is bowling. So there is no concern regarding how many spinners India plays in the match."
Cook is magnanimous in his praise for the home team.
"Indians have coped well with the huge pressure of being the home team," he says, adding, "History suggests that they have done really well at home."
So what would he like to ensure as captain of England?
"Hopefully, good results," says Cook, a tad philosophically.
Photograph: Danish Siddiqui/Reuters