Nagpur witnessed the swansong of Sourav Ganguly, one of India's greatest captains.
After the first two days in the fourth and final Test against England, it seems the venue could also see the career of the country's greatest batsman end.
Nothing is as painful for an Indian fan than watching Sachin Tendulkar get dismissed cheaply. And watching it happen so regularly is getting unbearable. His game has changed a lot of late, his reflexes have slowed down and his batting is, without doubt, on the wane.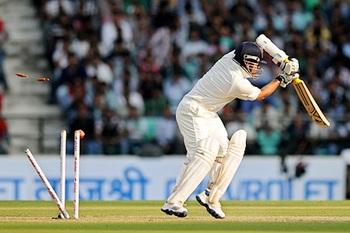 In six innings in the ongoing series Tendulkar has tallied a meagre 112 runs. A scratchy 76 in the first innings of the third Test is his only notable knock.
In his heyday, he dominated bowlers irrespective of the conditions and nature of the attack. Now, he is troubled by every bowler he comes across, so much so that he has become a sort of liability to the team.
At 39 years of age, and 23 years of international cricket, he realizes how much his poor form is hurting the team, and was gracious enough to have a chat with the selectors after India's defeat in the Mumbai Test. He is believed to have told them that it is their call to decide his future and is ready to accept any decision regarding his place in the team.
After watching his middle stump being sent cartwheeling by James Anderson, aficionados of the game are wondering whether the time has come for him to decide. Everyone knows that a decision as big as dropping Tendulkar cannot be the selectors' alone, but will involve other big wigs in the BCCI too.
Tendulkar needs to take a cue from Ricky Ponting, who realized his poor form was not doing the team any good and also blocking a young player's place and promptly called time on his career.
With fans demanding answers, and the team slipping from bad to worse, one wonders if it's time the game's highest run-getter is dropped or asked to take a call on his future.