Troubled England spinner Monty Panesar has been handed a suspended one-match ban for 'intimidating behaviour" towards Worcestershire player Ross Whiteley.
Video footage of the LV County Championship match shows that Panesar, while playing for Essex earlier this month, was aiming a kick in Whiteley's direction as the batsman ran past him.
The ban adds to a string of controversies linked with the cricketer, who recently got into trouble over urinating on bouncers at a nightclub.
However, his position in the England squad for the upcoming Ashes series in Australia remains safe as the selectors were aware of the incident when they picked him up.
Panesar was reported by umpires Martin Bodenham and Peter Willey and found guilty of breaching 3.2 of the England and Wales Cricket Board (ECB) discipline directive.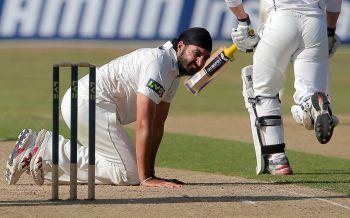 He accepted the verdict and has apologised.
The bowler joined Essex in a bid to rebuild his career after he was sacked by Sussex following his arrest for the urinating incident.
He has been provided with counselling to help him with personal problems before leaving for Australia next month for his third Ashes tour, the Daily Telegraph reported.
He has assured Geoff Miller, the national selector, his problems are behind him.
Announcing Panesar's inclusion in the England squad earlier this week, Miller said: "He's very prepared to let his bowling do the talking for him, so I'm prepared to accept that.
"He's an experienced international player, and it's up to him to actually produce the goods for us."
"Monty had his problems, which we've worked hard to rectify in the last six weeks - and he has too."
Image: Monty Panesar
Photograph: Scott Heavey/Getty Images