The opposition Peoples Democratic Party (PDP) has described Dr Farooq Abdullah's defence of the beleaguered BCCI president N Srinivasan 'as part of his cover up to escape punishment for alleged embezzlement in the Jammu and Kashmir Cricket Association'.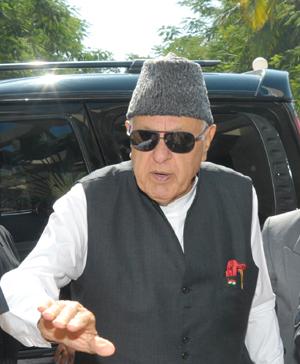 In a statement party chief spokesperson, Naeem Akhtar said in Srinagar Dr Abdullah 'faced serious charges of loot, corruption, embezzlement and malpractices as president of the state cricket association and it seems he is paying back Srinivasan's debt who looked the other way when the reports of fraud broke out'.
Akhtar said Dr Abdullah is facing more serious charges than Srinivasan as he has reportedly been issuing cheques himself for huge amounts from unauthorised bank accounts.
"Dr Abdullah calling Srinivasan a gentleman is understandable only as much as his own continuation in office as association president and union minister is," he added.
Akhtar said Abdullah has been 'running the affairs of the cricket association as a personal company that not only spends huge funds without any financial discipline or scrutiny but has also indulged in grabbing prime government land to build its assets through blue eyed contractors'.
"Now that pressure is mounting on Srinivasan to step aside till a probe is completed into the alleged misdeeds of his son-in-law, it is time for Dr Abdullah too to immediately step down," Akhtar said.
He said the 'state police must come out with the status of investigation in the case and explain why no arrests were made even in the face of documentary evidence available in public domain'.