Australia captain Michael Clarke pledged to celebrate first and worry about white-washing England later after winning back the Ashes on Tuesday, and his team did their skipper proud at a party at a Perth casino hosted by Shane Warne.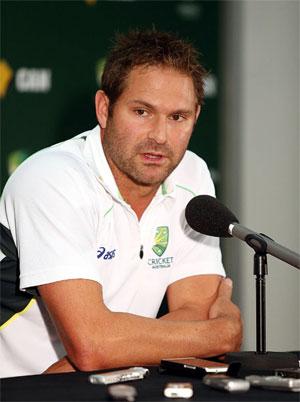 Already well lubricated following their 150-run triumph at the WACA which sealed the series 3-0, Australia's good vibes were not shared initially by the door staff at Crown Casino, who barred entry to the team that won back the country's most coveted trophy.
Paceman Ryan Harris delivered an expletive-filled rant against the venue and their staff on Twitter, as did the uncapped Nathan Coulter-Nile who trained as a reserve paceman with the team in Perth.
"A tip for all those heading to Perth! Avoid the crown or casino!" Harris said in his expletives-laden tweet before deleting it.
A sheepish Harris apologised for the rant on Wednesday after returning to Melbourne.
"Obviously I made a silly mistake this morning and I tweeted something I probably shouldn't have," he said.
"It was a silly thing to do -- they let me in the end, so they did the right thing.
"But they have to do their job and they were doing it.
"As I've heard many times before, don't tweet when you've had a drink."
Australia's test players have previously seen the dangers of a late-night tweet, when opening batsman David Warner engaged in a Twitter spat with prominent Australian cricket journalists earlier this year after taking umbrage with his picture being placed next to a story about match-fixing in the India Premier League.
Warner was slapped with a fine and a dressing down from Cricket Australia.
All-rounder Shane Watson, who scored a blistering century in Perth, had a gentle dig at England's expense when asked whether the casino's bouncers put up a better defence against Harris than the tourists' batsmen.
"Well I wasn't there for it, but maybe they did," he said in Perth.
"Obviously things for a period of time might not have gone exactly right. But in the end we were just there to have a great time."
Photograph: Morne de Klerk/Getty Images