Star Sri Lankan cricketer Tillakaratne Dilshan has been reportedly asked to appear in court over a child maintenance case.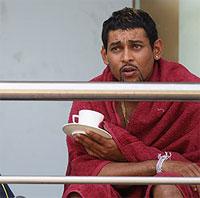 He has been asked to appear in a district court in Colombo on March 6, lawyers were quoted as saying in the Ceylon Today newspaper.
Dilshan's first wife Nilanka Vithanage claims that the former captain has not been paying maintenance of Rs 20,000 per month since November last year.
Vithanage had divorced Dilshan following which the star batsman married for the second time. Vithanage claims in her complaint that Dilshan's annual income exceeds Rs 150 million and he owns properties in excess of Rs 250 million.