Cricket South Africa could lose massive amounts in revenue if India's tour to the country later this year is shortened,
The Board of Control for Cricket in India wants a mere two Tests, three ODIs and two Twenty20 matches on the tour, between November and January 2014, instead of the seven ODIs and three Tests.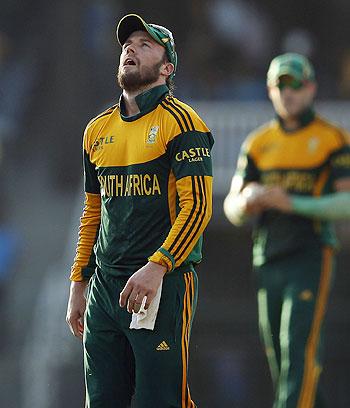 According to Sport24, the BCCI announced on Sunday that it had given the green light for a previously unscheduled tour of India by the West Indies (comprising both Tests and one-day internationals) in November, while also approving an itinerary for India's trip to New Zealand which encroaches on the roster for the South Africa tour already revealed by CSA.
The West Indies tour now clearly threatens to overlap with the start of the SA tour, while an itinerary released by the New Zealand authorities on Monday indicates the first ODI against India starting on January 19, that is supposedly the final day of the third and last Test between the Proteas and MS Dhoni's team at the Wanderers, the report said.
Should the India tour be shortened, Cricket South Africa will suffer financially due to lost revenue from television rights deals.
It could lose as much as 2.5 million rand a day if the tour is shortened, the report said.
Photograph: Dinuka Liyanawatte/Reuters