Part-time spinner Kane Williamson took two wickets, including that of Alastair Cook, just before stumps to put New Zealand firmly in charge of the series-deciding third Test against England at the end of the fourth day at Eden Park on Monday.
Ian Bell was on eight, while nightwatchman Steven Finn was dismissed in the final over of the day by Williamson for a duck to reduce England to 90 for four at the close, chasing an improbable 481 for victory and now needing to bat out the final day's play on Tuesday to scrape to a face-saving draw.
Cook, who had earlier been dropped on one, and Bell had engaged in a war of attrition as they battened down the hatches in the final session after Jonathan Trott had been dismissed for 37 to swing the match firmly in New Zealand's favour.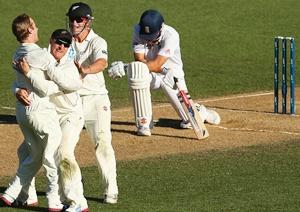 The England captain, whose mental strength would have been key to the visitors batting out the entire final day, was well set on 43 and seemingly content to see out the day when he inexplicably drove at a Williamson delivery and the ball flew to Dean Brownlie at second slip.
Finn fell on the first ball of the 53rd over when New Zealand captain Brendon McCullum placed eight players around the bat and Tim Southee took a catch that had struck the batsman on the wrist and rolled up his arm.
McCullum had declared the hosts' second innings closed about 45 minutes after lunch on 241 for six, after Peter Fulton became the fourth New Zealand batsman to score a century in each innings of a Test.
McCullum finished unbeaten on 67 when he declared after Watling was well caught in the deep for 18.
The declaration ensured England would need to break the world record for the highest successful run chase to win the match and the series after the first two games ended in rain-affected draws.
The highest fourth innings score to win a game was the 418 for seven that West Indies compiled against Australia in 2003.
Only one side has scored more than 300 to win a Test at Eden Park.
England's chase began terribly when Compton was caught low by Watling off Southee, leaving the tourists two for one, and they could have been in dire straits had the wicketkeeper held a chance from Cook with the score on 10 for one.
Trott, who was needed to still be batting with Cook at stumps to ensure England have a better chance of saving the Test on Tuesday, was dismissed in the eighth over after tea to reduce the visitors to 60 for two.
Cook and Bell, however, decided that discretion was the better part of valour, with Bell taking 19 balls before he got off the mark as the pair added just 30 runs in 24.5 overs.
Williamson then had his surprising double strike to put his side well in control of their own destiny.
The 34-year-old Fulton earlier steadied New Zealand after they wobbled with three wickets late on Sunday. He hit out against the left-arm spin of Monty Panesar, dispatching him with contemptuous ease.
Fulton moved from 46 to 60 in the morning session with two fours and a six in four balls, and after resuming after lunch with McCullum on 91, brought up his century with a glorious straight six into the northern stand off Stuart Broad.
Fulton was eventually caught on the boundary by Joe Root for 110, and following his 136 in the first innings, he joined Glenn Turner, Geoff Howarth and Andrew Jones as New Zealand batsmen to have scored a century in each innings of a Test.
Scorecard
New Zealand (1st innings): 443
England (1st innings): 204
New Zealand (2nd innings): (35 for three overnight):
P. Fulton c Root b Finn 110
H. Rutherford c Bell b Broad 0
K. Williamson b Anderson 1
R. Taylor lbw Broad 3
D. Brownlie c Bell b Panesar 28
B. McCullum n.o. 67
B. Watling c Compton b Panesar 18
Extras: 9
Total: (6 wkts dec; 57.2 overs) 241
Fall of wickets: 1-4, 2-5, 3-8, 4-82, 5-199, 6-241
Bowling: Anderson 17-6-59-1, Broad 17-5-54-2, Finn 13-1-57-1, Panesar 9.2-4-53-2, Trott 1-0-4-0.
England (2nd innings):
A. Cook c Brownlie b Williamson 43
N. Compton c Watling b Southee 2
J. Trott c Watling b Wagner 37
I. Bell n.o. 8 S. Finn c Southee b Williamson 0
Extras: 0
Total: (4 wkts; 52.1 overs) 90
Fall of wickets: 1-2, 2-60, 3-90, 4-90
Bowling: Boult 11-5-20-0, Southee 10-3-24-1, Martin 17-6-35-0, Wagner 8-6-6-1, Williamson 6.1-4-5-2.
Photograph: Phil Walter/Getty Images