Peter Fulton scored his maiden Test century as he anchored New Zealand to an impressive 250 for one at the close of play on the first day of the series-deciding third Test against England at Eden Park on Friday.
Fulton, who shared in a 79-run opening partnership with Hamish Rutherford (37), was unbeaten on 124 with Kane Williamson on 83 at stumps after England captain Alastair Cook won the toss and put the hosts in.
The 22-year-old Williamson, in sight of his fourth Test century, joined Fulton just five minutes before lunch and the pair combined to frustrate the England attack with an inspiring 171-run stand.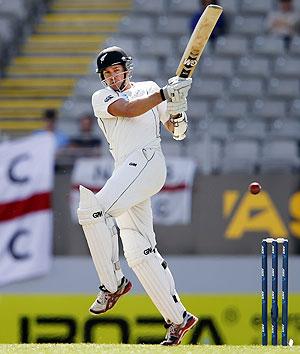 The hosts were 173 for one when they resumed after the tea break and Fulton moved to 99 when he got up on his toes and pulled a short Steven Finn delivery to the midwicket boundary.
England's 'Barmy Army' of travelling fans broke into their customary chants in an effort to unsettle the tall right-hander, who spent nine balls on 99 and resisted the temptation posed by a succession of wide deliveries from paceman Finn.
Fulton broke the spell when he worked a ball from spinner Monty Panesar wide of mid-on for a single and permitted himself a low-key celebration, removing his helmet and raising his bat to acknowledge a standing ovation from the crowd.
England's only success on the placid Eden Park pitch came when Rutherford wafted at a wide delivery from Finn and nicked the ball to Cook at first slip shortly before lunch.
GREEN PITCH
England captain Cook won his first toss of the Test series and chose to bowl on a drop-in pitch that showed green tinges and promised more bounce than the wickets in Dunedin and Wellington.
Cook's fast-bowling trio of James Anderson, Stuart Broad and Finn produced some anxious moments for Fulton and Rutherford in the morning session but once the sun emerged and flattened out the pitch, New Zealand were barely troubled.
England were also culpable for bowling a little too straight, and Fulton exploited that to the fullest, whipping the ball through the leg side for 98 of his runs.
The 34-year-old Fulton was particularly aggressive against left-armer Panesar, who bowled too short and allowed the tall right-hander to rock back and belt him to the leg side boundary four times and over it twice.
Fulton's previous best Test score was 75 against West Indies in 2006 and prior to the first match in Dunedin had not played a Test since 2009.
He remade himself as an opener in the interim period and was recalled on the back of a strong first class season.
Scorecard
New Zealand (1st innings):
P Fulton not out 124
H Rutherford c Cook b Finn 37
K Williamson not out 83
Extras: (b-4, lb-2) 6
Total: 250 for 1
Fall of wickets: 1-79
Bowling: Anderson 19-5-44-0, Broad 19-5-57-0, Finn 22-6-61-1, Panesar 25-9-70-0, Trott 3-1-7-0, Root 2-1-5-0.
Photograph: Nigel Marple/Reuters