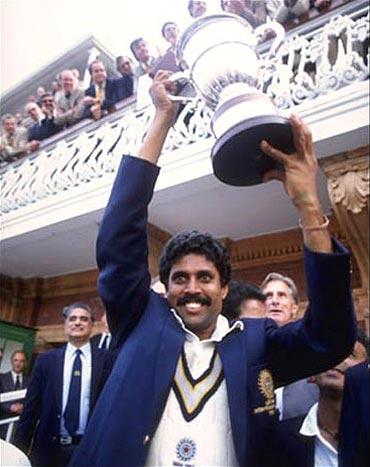 As the World Cup inaugural ceremony gets underway in Dhaka on Thursday, Manish J explains why he will watch the World Cup as a cricket lover, and not as a crazed Indian fan.
Once every four years, forgotten heroes of our 1983 World Cup triumph get remembered again. They dust off their coats and memories, dye their hair, put on their most reflective smiles, and have zillion and one news channels trip over themselves to have them on air.
Then they reminisce.
They talk about that six by K Srikkanth. They talk about that catch by Kapil Dev. They talk about that injury to Clive Lloyd. They talk about that moment.
Not that I need any reminding. Every ball of that match is imprinted in my mind.
Who says 13 is an unlucky number? I was 13 when we won the World Cup. I watched it at a friend's home with 15 other kids my age, all of us crammed in a rather tiny living room. And when Mohinder Amarnath got Michael Holding leg before off the last ball of the 52nd over, the windows rattled with our sustained screaming.
To celebrate, my friend's dad gave most of us our first taste of beer; Hamburg Pils. I don't know whether it's still available these days. Thanks uncle. Thanks Kapil.
Since that day, every four years I keep hoping that the Indian team will raise the Cup and I will raise a toast. But the wait has only grown more agonising with every passing World Cup.
I thought we had a good shot at the Cup in 1987. Everybody was talking about India's chances. But Graham Gooch swept us out of the semi-finals and an unheralded Australian team wrested the Cup.
Then in 1996, we had an explosive Sachin Tendulkar, an elegant Mohammed Azharuddin, an ebullient Ajay Jadeja, and a pack of very able bowlers, led by Javagal Srinath and Anil Kumble. But we again stumbled in the semis. Ripped to shreds by Aravinda de Silva's rapier; frustrated by Arjuna Ranatunga's and Hashan Tillakaratne's measured stroke play; and finally flattened this once by Sanath Jayasuriya's bowling, not his batting.
As Sri Lanka extinguished our hopes, Eden Gardens went up in flames, and a teary-eyed Vinod Kambli's career went up in smoke.
In retrospect, this was probably the moment when reality TV made its debut in India. I'm sure many future programming heads must have rubbed their hands in glee and gone: Wow! This isn't a bad way to grab eyeballs. Get folks riled up and inflame their passions!
Then came 2003. We began disastrously. But the backlash back home whipped the team into action. We zoomed into the finals at Jo' burg. But then Adam Gilchrist, Ricky Ponting and Damien Martyn exploded and our team imploded. And a billion hopes got deflated.
In 1987 and 1996, I think the weight of an entire country's expectations was just too heavy to bear. I think our team cracked more from this load than from pressure exerted by the opposition
In 2003, the Aussies were just too strong.
This once, I'm not getting sucked into some media-driven 'Wish your team all the best' promotion. No pipedreams or hype-dreams for me. I don't want to damn the team with my expectations.
Yes, this is probably the best one-day team India has ever assembled, but let's not look at our team in isolation. England has rarely had such a strong one-day outfit; this Sri Lankan squad is probably more than a match for their 1996 squad; South Africa are predictably strong; Pakistan are unpredictably so. And Oz... you write them off at your own peril.
So this year I'm going to watch every match as a cricket lover; not as a crazed fan of Team India. Because honestly, playing for India is motivation enough; without India praying for you.
Image: Kapil Dev with the 1983 World Cup, the only time India has won it.