Captain Graeme Cremer picked up three wickets with his leg spin to help Zimbabwe reduce hosts Sri Lanka to 293 for seven at the end of the second day in their one-off Test at the R Premadasa Stadium on Saturday.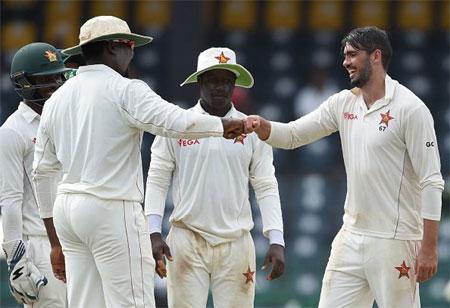 Sri Lanka trail Zimbabwe by 63 runs in their first innings after the touring side were all out for 356, having resumed the second morning on 344 for eight.
Sri Lanka's spin spearhead Rangana Herath added to his overnight haul of four wickets to pick up five for 116, his 30th five-wicket haul in tests.
Craig Ervine could add only nine runs to his overnight score of unbeaten 151 before he was the last man out for Zimbabwe.
Sri Lanka opener Upul Tharanga hit a fluent 71 before he was run out while backing up too far at the non-striker's end. Tharanga and fellow opener Dimuth Karunaratne compiled an opening stand of 84 for Sri Lanka.
Leading Sri Lanka for the first time in Tests, Dinesh Chandimal scored 55 and added 96 for the fourth wicket with former skipper Angelo Mathews, who made 41.
SCOREBOARD (at stumps, on Day 2)
Zimbabwe 1st innings (overnight 344 for 8)
H Masakadza c Mendis B Herath 19
R Chakabva b Herath 12
T Musakanda c Dickwella b Kumara 6
C Ervine c Perera b Kumara 160
S Williams c Gunaratne b Perera 22
S Raza lbw b Herath 36
P Moor c Kumara b Gunaratne 19
M Waller b Herath 36
G Cremer b Gunaratne 13
D Tiripano c Karunaratne b Herath 27
C Mpofu not out 0
Extras: (W-1, NB-5) 6
Total: (all out; 94.4 overs) 356
Fall of wickets: 1-23, 2-38, 3-38, 4-70, 5-154, 6-195, 7-260, 8-282, 9-356.
Bowling: Lakmal 14-1-58-0, Kumara 17.4-2-68-2, Herath 32-4-116-5, Perera 24-0-86-1, Gunaratne 7-0-28-2.
Sri Lanka 1st innings:
D Karunaratne c Masakadza b Tiripano 25
U Tharanga run out (Tiripano) 71
K Mendis c Chakabva b Cremer 11
D Chandimal c Chakabva b Cremer 55
A Mathews c Masakadza b Williams 41
N Dickwella b Cremer 6
D Perera run out 33
A Gunaratne not out 24
R Herath not out 5
Extras: (B-8, LB-10, W-1, NB-3) 22
Total: (For 7 wkts; 83 overs) 293
Fall of wickets: 1-84, 2-107, 3-116, 4-212, 5-226, 6-238, 7-274.
Bowling: Mpofu 11-2-41-0, Tiripano 10-1-38-1, Raza 18-2-60-0, Cremer 30-3-100-3, Waller 1-0-2-0, Williams 13-1-34-1.
Image: Zimbabwe captain Graeme Cramer celebrates a Sri Lankan wicket on Day 2 of the one-off Test in Colombo on Sunday
Photograph: Twitter