Shivnarine Chanderpaul became the 10th batsman to reach 10,000 Test runs as he headed West Indies' attempt to avoid defeat in the third and final Test against Australia on Thursday.
Set a daunting target of 370 to win on a track offering plenty for spin, as West Indian Shane Shillingford proved with his 10-wicket haul, the home side fought hard with Chanderpaul making a typically stubborn 69 from 122 balls in his team's 173 for five.
The left-hander was trapped leg-before-wicket by Australia captain Michael Clarke in the final over of the day, though, dampening the enthusiasm of a home crowd, who had sensed the chance of an exciting final day.
Chanderpaul reached his personal milestone in circumstances and a manner that has been typical of his career, patiently accumulating runs as his team struggled to avoid defeat.
But the glimmer of hope provided by a partnership of 110 between Chanderpaul and Darren Bravo, faded when both were removed in the final eight overs of the day.
Australia were relieved to remove Bravo, who had made a stylish 45, caught behind off Shane Watson and they were delighted when Chanderpaul departed.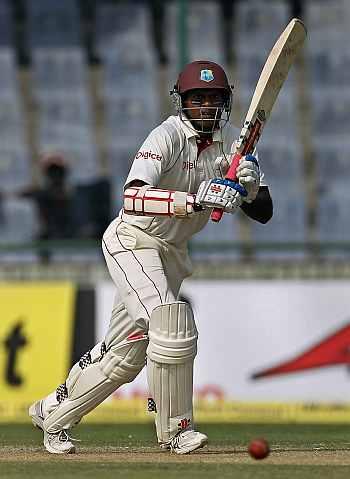 The decision was gained after Clarke, who has three wickets with his slow left-arm, asked for a review after his leg-before-wicekt appeal had been declined and the changed verdict leaves Australia with victory well within their reach on Friday.
Still needing another 197, West Indies have plenty of time but it will take a remarkable effort if they are to get close to the target.
The West Indies' bowlers had done a good job of picking up the last four Australian wickets for 59 runs in the pre-lunch session as the tourists were bowled out for 259.
But, as has happened throughout the series, any benefits gained by the West Indies bowling attack were quickly undermined by the batting at the top of the order.
Opener Adrian Barath failed to make it through the 25-minute spell before lunch, brilliantly caught for a duck by a flying Ed Cowan at mid-wicket off Ben Hilfenhaus.
CLARKE STRIKES
After the break, Clarke opted to make use of his own spin and his decision paid off instantly as he struck with his sixth delivery, trapping Kraigg Brathwaite (14) leg before.
Kieran Powell progressed to 24 and was looking relatively comfortable until Clarke bowled him to bring Chanderpaul to the crease.
The Guyanese left-hander is well used to the role that was cast for him, shouldering the responsibility for trying to save a match, and when he passed the 10,000 run mark before tea, his achievement was recognised by warm applause from the crowd and the Australian team.
The nudge to mid-wicket that took Chanderpaul into five figures also took his career average to exactly 50, an outstanding record for someone who has spent so much time in a losing team.
Typically Chanderpaul's response was a minimal acknowledgement as he returned to the task of building the partnership with Bravo.
"It felt really, really good to reach this milestone today and I am very excited," said Chanderpaul.
"It was one of the goals I set myself and I believe I have reaped for reward for the hard work I put in over the years," he added.
An Australian victory and 2-0 series victory is clearly the most likely outcome but the home crowd had another West Indies' achievement to applaud on Thursday with Shillingford becoming only the second West Indian spinner to take 10 wickets in a match in a home Test.
The first Dominican to play a Test on home soil, Shillingford removed Mike Hussey for 32 and Hilfenhaus for six in the morning session to follow up his excellent first-innings figures of six for 119.
The tall off-spinner's second-innings haul of four for 100 meant he became the first West Indian spinner to collect 10 wickets in a Test since Lance Gibbs in 1966.
Scorecard:
Australia first innings 328
West Indies first innings (overnight 165-8)
A.Barath c Cowan b Lyon 29
K.Brathwaite c Harris b Hilfenhaus 0
K.Powell b Lyon 40
D.Bravo c Cowan b Warner 10
S.Chanderpaul lbw b Starc 68
N.Deonarine lbw b Harris 7
C.Baugh c Cowan b Lyon 5
D.Sammy run out 10
S.Shillingford b Starc 0
R.Rampaul c Warner b Lyon 31
K.Roach not out 9
Extras (b-1 lb-2 w-1 nb-5) 9
Total (all out, 87.2 overs) 218
Fall of wickets: 1-1, 2-62, 3-73, 4-85, 5-96, 6-103, 7-120, 8-120, 9-186
Bowling: Hilfenhaus 16-6-30-1, Starc 12.2-4-29-2 (3nb), Harris 13-0-36-1 (1nb), Watson 4-0-12-0 (1w), Lyon 33-7-69-4, Warner 5-0-21-1, Clarke 2-0-18-0 (1nb)

Australia second innings
D.Warner c Chanderpaul b Roach 11
E.Cowan c Sammy b Deonarine 55
S.Watson c Sammy b Shillingord 5
R.Ponting c Chanderpaul b Roach 57
M.Clarke c Bravo b Shillingford 25
M.Hussey c Sammy b Shillingford 32
M.Wade lbw b Deonarine 4
R.Harris c Baugh b Deonarine 9
M.Starc b Roach 21
B.Hilfenhaus c B'waite b Shillingford 6
N.Lyon not out 12
Extras (b-8 lb-9 w-1 nb-4) 22
Total (all out, 85 overs) 259
Fall of wickets: 1-17, 2-25, 3-112, 4-168, 5-171, 6-196, 7-220, 8-230, 9-237
Bowling: Rampaul 9-1-37-0, Roach 13-2-40-3 (4nb 1w), Shillingford 39-7-100-4, Sammy 10-4-20-0, Deonarine 14-1-45-3.
West Indies second innings
A.Barath c Cowen b Hilfenhaus 0
K.Brathwaite lbw b Clarke 14
K.Powell b Clarke 24
D.Bravo c Wade b Watson 45
S.Chanderpaul lbw b Clarke 69
N.Deonarine not out 11
Extras (b-3 lb-7) 10
Total (for five wickets, 67.1 overs) 173
Fall of wickets: 1-0, 2-28, 3-45, 4-155, 5-173
Bowling: Hilfenhaus 10-5-14-1, Starc 8-2-20-0, Lyon 18-3-46-0, Harris 9-2-23-0, 12.1-0-34-3, Watson 9-2-20-1, Warner 1-0-6-0.