The Court of Arbitration for Sports (CAS) in Switzerland [ Images ] will hear the appeals of suspended Pakistan cricketers Salman Butt [ Images ] and Mohammad Asif [ Images ] against the International Cricket Council's [ Images ] (ICC [ Images ]) bans for spot-fixing next February.
According to the Daily Times, Asif's case will be heard sometime from February 5 to 7, while Salman's case will be heard on February 8.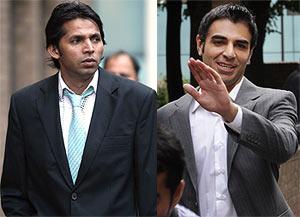 Asif, along with Salman and Mohammad Aamir, was found guilty on November 2011, on charges of conspiracy to cheat and accept corrupt payments over deliberate no-balls bowled during the Lord's Test played between Pakistan and England [ Images ] in August 2010.
Aamir, the third player accused by the Crown Prosecution Service, had pleaded guilty to the charges. However, the three players had already been found guilty by an ICC tribunal on February 5, 2011, and were banned for various durations.
Asif's ban was for seven years and that punishment was announced a day after the CPS levied its charges against the players.