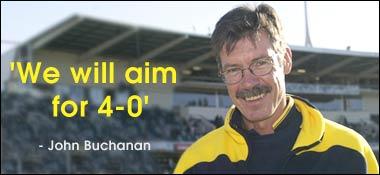 He has changed the way cricket is played. If Australia is at the summit of world cricket today, John Buchanan, contrary to popular belief, can take a huge chunk of the accolades.
Taking over from Geoff Marsh in 1999, Buchanan brought a fresh chain of thought to Australian cricket. During the 2001 Ashes series, he distributed a ten-page memo from The Art of War, the world's oldest military treatise written by Sun Tzu, to his players. He has advocated producing ambidextrous players and subscribes to Edward de Bono's theory of lateral thinking.
With the Indians Down Under facing the toughest challenge in world cricket, John Buchanan makes a strong statement about his team's aim for a 4-0 whitewash and the threat of Sachin Tendulkar shadowing their aim in an exclusive interview with Faisal Shariff. Excerpts:
Several Indian teams have gone to Australia with confidence and yet returned empty-handed with their egos bruised. How do you see this Indian team doing in Australia?
We were doing a reconnaissance while in India. I saw a part of the Test series against New Zealand. It was interesting to see how the two teams went about playing that series. It didn't suggest to me the way India have played previously. They were more aggressive then, were more prepared to take risks. They didn't do that against the Kiwis.
We were on reconnaissance in India and overall my view would be that they have made big strides since they came to Australia in 1999-2000.
[Ashish] Nehra, [Zaheer] Khan, Harbhajan [Singh] and [Virender] Sehwag are promising players. [Mohammad] Kaif is a good find in one-dayers.
The Indian team has taken some steps forward. If that translates into playing Australia [well], I am not sure.
Brisbane will be the quickest wicket and we will be without our spearheads. It will present an opportunity to the Indians. Adelaide will be more favourable to their style of cricket. Finishing off in Melbourne and Sydney will surely make for an interesting series.
MCG will provide bounce, but will not be as quick as Brisbane. Sydney has changed in its character over the last 18 months or so. There will be more assistance to pacers early on, but it will help spinners later. The Sydney wicket will favour India in the latter part of the match.
V V S Laxman and Harbhajan Singh have left scars on the Aussie psyche. Are they a worry in this series?
Laxman unleashed an unbelievable innings in Sydney in 1999. An individual performance or a great team effort can always find us on the back foot. But to sustain that over a period of time might be difficult and that we will see over the coming series.
But we will give a lot of importance to Sachin Tendulkar. There are good players around him, but he is the key player for their performance over the series.
Why Tendulkar? Despite the presence of other class players, why do the Aussies always target him?
He is a class player. You don't average close to 60 without being a great player. He has the capacity to score hundreds. He has a range of shots most players don't have and that makes it very tough to tie him down.
What he does is give an impetus to players around him and that is an important role he plays in the side. They are maturing and his stature might diminish a little, but he carries in himself the desire to perform each time he goes out to play for India and that is a threat.
And I suspect that a lot of players feel that he is an important component in the way India will play in Australia.
Maybe over the last 12-18 months India have performed without him. But on a tour like Australia, if they have to succeed or go to Sydney 1-1, 2-1 up or 1-2 down, he will need to have a very good series.
Which Indian bowlers will be the main worry?
Khan and Nehra can move the ball around and are always dangerous. Being left-arm always presents an attacking weapon for a side. It will be interesting to see who the third seamer will be. It will be a pivotal role.
We have talked about Harbhajan and Kumble, two key spin bowlers. It depends what role they will be given that will define their performance on the tour.
Harbhajan will probably play the wicket-taking role and Kumble will be the stock bowler. And if given [the right] conditions Kumble can take wickets.
What is your prediction?
I never predict. As always if our top order can bat and our bowlers bowl the way they always do I believe we can win.
I think India will find it very difficult. We will aim for 4-0.  Whether that happens or not, I don't know.
On the eve of the first Test against India, Australia are the clear favourites. As world champions and a team that looks to raise the bar, is there any apparent weakness you would like to fix in this Aussie team?
I am not sure there is any area which needs to be improved drastically, but there is room for improvement. Ricky Ponting has always emphasised that all the time the players are looking to raise the bar. When in India they tried to improve their game and see how they can adapt to subcontinental conditions.
Australia has revolutionised the way Test cricket is played with their scoring rates. Irrespective of how many wickets they lose, they always seem to continue attacking. Do you reckon it is a very rigid approach?
Your strength is always your weakness. While we continue to play that way, it is a part of the winning formula. At the same stage that can be a weakness.
But can Australia be beaten? We can be beaten and we may be beaten in a couple of games. But in the long run, the way we do play our cricket, we will win 80 per cent of our matches.
The Australians do struggle against spin. Sri Lanka and India still remain unsuccessful campaigns.
We look at recent times; both India and Sri Lanka have had world-class bowlers. We have world-class pace bowlers and a great spinner in Shane Warne and now Stuart MacGill.
Look at the World Cup in South Africa. We were in difficult situations against Sri Lanka, but we were able to get through that and win the games. We have to deal with India and Lanka more and more and it is our Achilles heel. If they believe they can utilise spin and medium pace with intelligent field placements and beat us, they are being realistic. But if we talk about raising the bar, we are improving in that area of our game.
Has the transfer of power from Steve Waugh to Ricky Ponting been tough?
It is not a situation I have chosen. The selectors chose that for the World Cup. I did make the comment that I didn't agree with having two captains. However, since that particular time the quality of the captains and the character of the team have made the situation working.
Both Steve and Ponting are similar and dissimilar; in the way they might operate, in their personalities, but they lead in their own way and communicate well.
I don't know if it would work in most situations but with the character and quality of the team it is working well at the moment.
Does Steve Waugh ever discuss one-day tactics after being sacked from the one-day team?
I think he has come to a state of mind that he won't be part of the one-day squad. He understood that after he was not picked for the World Cup squad. And though he believes that he can still compete in the one-day team, the selectors have made it clear that there is no role for him. He can concentrate on the Test team and prepare for that to the best of his ability. He has moved on from that point and avoids discussing the team tactics in one-dayers.
Do you think Ricky Ponting is in a very tough position taking over as captain? Shane Warne and Glen McGrath are at the fag end of their careers and new bowlers are all that Ponting has at his disposal for the tougher tests ahead.
Again, he does not have a choice on two things: 1. When the selectors choose to make him captain, and 2. when players' careers come to an end.
However, Warne and McGrath are far from retirement.
Life is a lot about timing, but we don't get to choose that a lot of times.
You are a fan of Edward de Bono. But his books on lateral thinking are beyond the common man. What is lateral thinking all about and how do you incorporate it in your game?
My take on it is trying to stop yourself the way you think. We have certain value systems and that leaves certain maps in our minds; the way we approach things. We need to stop that train of thought and jump outside and look back at the situation we perceive.
Say in a cricket match: The object is to take wickets to win the game. We will say we will not take any wickets. Whether that is the right premise or wrong premise, it opens up different channels to look at the game.
Why would we not take wickets? Maybe the opposition players we have batting at that moment, we don't want them to get out because their scoring rate is poor, or we know we can bowl to them in a certain way and not let them score. We know that will complicate the innings for the opposition.
It is always about coming to a situation from a completely different perception.
Bono's books are difficult, but his books would be simple if we practise what he says.
Cricket skills are difficult, but if you practice them the body gets accustomed to the various side-on activities and other traits. The same is the case with lateral thinking. Once you adapt yourself to it your mind takes over and opens more avenues.
He has agreed to work with the team at a later stage and help build some exercises for the players to practise.
How is it at the summit of world cricket? It must be lonely. How do you continue to challenge yourself? 
Maybe it is boring at the top, but at the same time it is innovating. It means you have achieved something and there is more to achieve. There is no individual in my time who would want to continue and be happy in life. Individuals cease to exist if they cease to want to be challenged.
We are in a cricket field and if a cricketer chooses not to be challenged anymore he consigns himself to a life of mediocrity, which will eventually end.