Captain Brendan McCullum smashed his fourth One-day International century off 79 balls as New Zealand completed a sweep of their three-match series against Zimbabwe with a 202-run victory at McLean Park in Napier on Thursday.
McCullum capitalised on being dropped by Regis Chakabva while on 48 to guide New Zealand to their third-highest total of 373 for eight.
He was out for 119 on the final ball of the innings, having hit seven boundaries and five sixes.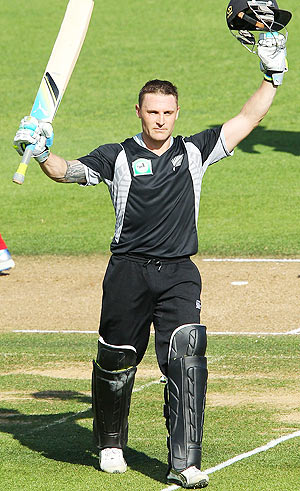 Zimbabwe were never in the match when they batted, though captain Brendan Taylor (65) and Tatenda Taibu (26) combined for a 67-run third wicket partnership.
Both well caught by substitute fielder Colin de Grandhomme, leaving the visitors floundering at 115 for five.
New Zealand had looked like they may post a target of 400-plus following the blistering 153-run opening stand between Martin Guptill (85) and Rob Nicol (61).
Nicol, who scored 146 in the second match in Whangarei, was dropped by Tino Mawoyo on 10 in just the third over and made the Africans pay before he was trapped lbw by Prosper Utseya on the final ball of the 22nd over.
Guptill, who scored 70 in the first match and 77 in the second, had looked well placed for a century but was dismissed on the next ball when he missed a wide down the leg side by left-arm spinner Ray Price, fell over and was stumped by Taibu.
Left arm seamer Brian Vitori was the most expensive of the bowlers, conceding 105 runs from just nine overs, while Elton Chigumbura finished with figures of one for 92 off 10 overs.
Zimbabwe's tour concludes after the two sides meet for two Twenty20 internationals, at Eden Park in Auckland on Sunday and Seddon Park in Hamilton on February 14.
Scorecard
New Zealand
 R Nicol lbw b Utseya 61
 M Guptill st Taibu b Price 85
 J Oram b Jarvis 25
 B McCullum c Mawoyo b Jarvis 119
 K Williamson lbw b Chigumbura 38
 N McCullum c Matsikenyeri b Price 21
 A Ellis run out 5
 D Bracewell c Taylor b Vitori 1
 T Latham not out 7
 Extras: (b1, lb1, w8, nb1) 11
 Total: (8 wickets; 50 overs) 373
Fall of wickets: 1-153, 2-154, 3-192, 4-276, 5-320, 6-344, 7-364, 8-373.
Bowling: Vitori 9-0-105-1, Jarvis 9-0-58-2, Chigumbura 10-0-92-1, Price 10-0-59-2, Utseya 10-1-47-1, Waller 2-0-10-0.
 Zimbabwe
 T Mawoyo run out 9
 S Matsikenyeri lbw b Bracewell 5
 B Taylor c sub(deGrandhomme) b Williamson 65
 T Taibu c sub(deGrandhomme) b Bates 26
 M Waller run out 4
 R Chakabva c sub(Southee) b N.McCullum 24
 E Chigumbura lbw Nethula 16
 P Utseya c Williamson b Nethula 5
 R Price c Bates b Williamson 14
 B Vitori c B.McCullum b N.McCullum 0
 K Jarvis not out 0
 Extras: (w3) 3
 Total: (all out; 44 overs) 171
Fall of wickets: 1-14, 2-14, 3-81, 4-101, 5-115, 6-137, 7-147, 8-168, 9-171.
Bowling: Bracewell 8-1-26-1, Bates 8-1-24-1, Oram 4-0-17-0, Nethula 10-1-41-2, Ellis 8-1-29-0, N.McCullum 3-0-21-2, Williamson 3-0-13-2.