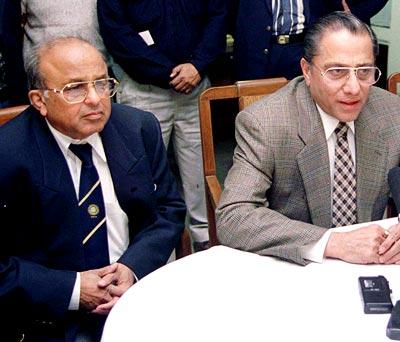 The Board of Control for Cricket in India (BCCI) on Friday condoled the death of Jaywant Lele, the diminutive former BCCI secretary during whose tenure the match-fixing scandal broke out in 2000, and who passed away at his residence in Vadodara following a massive heart attack.

"I am shocked to hear of the sad demise of Mr. Jaywant Lele. He was associated with the BCCI for nearly three decades, representing the Baroda Cricket Association," BCCI president N Srinivasan said in a statement.

"He served as Hony. Jt. Secretary and Hony. Secretary of the Board for almost a decade. He was also part of the BCCI's Umpires' Panel. We shall miss him. May his soul rest in peace," he added.

Lele breathed his last late on Thursday night. He was 75 and is survived by his wife, a son and a daughter.

Board secretary Sanjay Patel, too, offered his condolences.

"The BCCI is saddened by the news of Mr. Jaywant Lele's demise. He was an astute administrator, who served the Board with distinction for several years. On behalf of the BCCI, I would like to extend my condolences to his near and dear ones. May his soul rest in peace," Patel said.

The outspoken Lele, who served as BCCI's assistant secretary and later took over the reins as the secretary when Jagmohan Dalmiya became the president of the ICC in 1996, had celebrated his 75th birthday on September 13.

According to family sources, Lele suffered a massive heart attack when he went to the bathroom before going to sleep. He was "escorted to the bed but he passed away".
Sachin Tendulkar, who is now in Jaipur to take part in the Champions League T20 match for Mumbai Indians against Rajasthan Royals on Saturday, called up former ODI player Atul Bedade to convey his condolences to the bereaved family of Lele.

Paying rich tribute to Lele, Tendulkar told Bedade that the former BCCI secretary had played an important role when he started playing cricket more than two decades ago.

Tendulkar also said that he cannot forget Lele's contribution in shaping his cricketing career, Bedade said.

Former IPL chairman and president of the Baroda Cricket Association, Chirayu Amin also praised the administrative capabilities of Lele.

Amin, who garlanded the dead body in the crematorium, said: "Lele was a super man and will be remembered long for the development of the game of cricket in Vadodara as balance of BCA was merely Rs 500 when he took over its reins in the late seventies."

Former Test opener Anshuman Gaekwad said it would be difficult to find a person like Lele in BCCI.

"He never said no for anything and his administrative capabilities were excellent," said Gaekwad.

Former India stumper Kiran More conceded that it was a mistake he made when he played an important role in the ouster of the outspoken Lele in an intensively fought election in 2001 and later accusing the latter of financial irregularities.
Also read:
- Lele's memoirs: 'Kapil forced Sachin change follow-on decision'
- Lele's memoirs: Why Sidhu walked out of the 1996 England tour
- India will be wiped out 3-0 in Australia: Lele
Image: Jaywant Lele (left) with Jagmohan Dalmiya
Photograph: Reuters