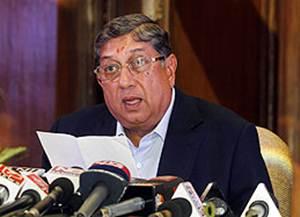 N Srinivasan will contest the election for presidentship of the Board of Control for Cricket in India, in Chennai, on September 29.
"I am going to stand (for re-election as president).
"You are press; all of you are giving the numbers (in support and against me)," he declared, after attending the BCCI's marketing committee meeting in Mumbai, on Thursday.
Srinivasan is hoping to get re-elected as president of the BCCI for a third year running under its two-plus-one year tenure rule, after having completed two years at the helm.
He is under a lot of pressure since the spot-fixing scandal and his son-in-law and Chennai Super Kings Team Principal Gurunath Meiyappan's name cropped up in investigations into betting during the Indian Premier League's sixth season in April-May.
The Tamil Nadu Cricket Association president stepped aside as BCCI chief in June and let former president Jagmohan Dalmiya take over its day-to-day working.
However, he chaired the meeting of the disciplinary committee, in Delhi, earlier this month, that imposed life bans on cricketers Shantakumaran Sreesanth and Ankeet Chavan, following a probe by BCCI's Anti-Corruption and Security Unit chief Ravi Sawani, for indulging in spot-fixing in IPL6.
Srinivasan also said the report of south units holding a meeting in Chennai recently are incorrect, adding the media got the venue wrong.
Two units of south zone, Goa and Andhra CA, did not attend the meeting, according to the reports.
"First of all the information is wrong. The meeting did not take place (at the venue) where media is saying," he said, adding, "I don't know what bearing it has (on the upcoming elections)."
Image: N Srinivasan