Duncan Fletcher was on Wednesday appointed India's cricket coach. He replaces the highly-successful Gary Kirsten, ending weeks of suspense on who will take over the high-profile job.
The 62-year-old Zimbabwean, who coached England with mixed results from 1999 to 2007, has been handed the job for two years.
The decision to appoint Fletcher, whose name was doing the rounds as a possible successor to Kirsten, was taken at the BCCI's working committee meeting in Mumbai. The announcement came as a surprise, as the BCCI gave no indication that it had decided on the appointment of the new coach.
- India's major successes under Kirsten
"The contract with Fletcher is for two years. He may not join the team in the West Indies as he has some prior commitments," BCCI secretary N Srinivasan told reporters after the meeting.
Eric Simmons, who was the bowling coach during Kirsten's tenure, will continue in the same position, Srinivasan added.
Fletcher, who captained Zimbabwe during the 1983 World Cup and played just six one-dayers during the African nation's pre-Test days, had mixed fortunes as coach of England.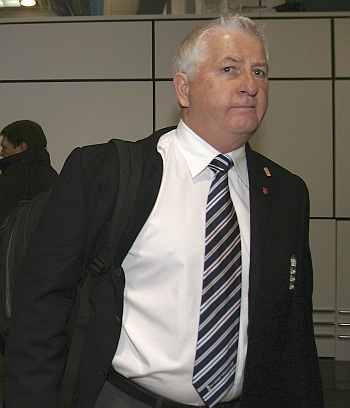 The high points of his career were England's Ashes triumph over Australia in the home series of 2005, England's first series win in the West Indies in 36 years, and taking England to the third spot in the Test rankings.
Fletcher has a tough job ahead of him as he replaces the amiable South African Kirsten, who set a high benchmark for the Indian team and completed his stint with the memorable World Cup triumph earlier this month.
With Kirsten at the helm, India reached the pinnacle in the Test rankings and number two in the ODI list after conjuring up memorable wins and draws in series abroad.
He relinquished the job to spend more time with his family.
Fletcher was the first foreigner to coach England's cricket team, a stint that had its share of highs and lows.
Known to be a strict task-master, Fletcher guided England to eight straight Test wins during his stint.
The biggest moment for him came in 2005 when England upstaged a star-studded Australian team to win the Ashes for the first time since 1987.
The Zimbabwean was honoured by Britain's Royalty with an OBE before England's form slid and his position came under the scanner.
England managed to draw their series in India and Pakistan, but the 0-5 whitewash in the 2006-07 Ashes series in Australia led to widespread criticism of Fletcher, who refused to step down at that stage.
But England's early exit from the 2007 World Cup in the West Indies ended any chances of him holding on to the post and he put in his papers.