Former Sri Lanka skipper Kumar Sangakkara has described the innings defeat his side suffered in the first Test against England in Cardiff, as horrendous.
The Test was headed for a draw as both the teams scored more than 400 runs in their respective first innings but Sri Lanka lose wickets in a heap in the second innings to lose the match by an innings and 14 runs.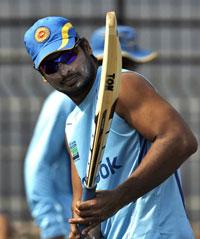 "Disappointing is an understatement about Cardiff in regards to our batting. We were horrendous. We know it and have accepted that. No one tries to have a performance like that. We have to take responsibility for that, I think Cardiff was a tough lesson for us and an important one for us as a team," Sangakkara said on ICC Cricket World Radio Show.
The left-handed batsman, however, said they have enough depth in their bowling to do well in the second Test, starting on Friday at Lord's.
"We have a different bowling attack than England, we don't have the same height. It is a bit of guile, swing, seam and we bowl to our plans. We have a lot of ability and a lot of variation. How best to use that is something we will try to answer in the next five days," he said.
The 33-year-old also talked about his work with ICC Think Wise partnership and why cricketers should be involved in the initiative to remove the stigma associated with HIV and AIDS.
"It's very important because cricketers are held in high esteem, highly visible public figures. With majority of AIDS affected people living in cricket playing countries, our roles become that much more important. More and more cricketers should be associated with it," Sangakkara said.