Former India captain Mohammad Azharuddin rubbished the claims made by former teammate Vinod Kambli that the 1996 World Cup semi-final against Sri Lanka could have been 'fixed'.
Azharuddin, who was the skipper at that time, said, in an exclusive interview to CNN IBN, that Kambli "must have been sleeping when the decision to bowl was taken".
"We wanted to chase after we lost to Sri Lanka in Kotla in the previous match," he added.
Kambli, earlier, had raised question marks about crucial semi-final match, hinting that it could have been fixed.
He claimed that his suspicion arose due to Azharuddin's decision to field first even though it was unanimously decided that the team would bat after winning the toss.
Kambli said he was shocked when he came to know that they had to field when everybody was mentally prepared to bat.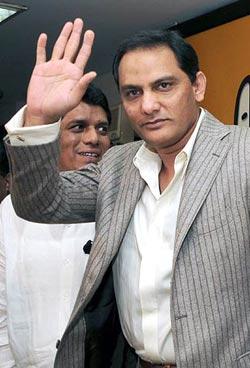 "We had been playing well during the entire World Cup and even defeated the likes of West Indies and Pakistan to reach the semi-final. Our openers were all set to bat; however, at the nick of time, we learnt we had to field. I got a huge shock after learning this," he said.
Azhar felt Kambli has just made a fool of himself with such lose talk.
- Decision to field 1996 WC semis stunned me: Kambli
He also blasted the former Mumbai batsman for changing his stand, and further gave details, saying, "He, on so many occasions, has said that I was the best captain he has played under; it's very annoying the way the statement was made. For Kambli to talk like this, it shows his class."
Azharuddin threw more light on the 1996 semi-final match, saying, "I don't have any regrets, it was a collective decision, no reason to shy away from this. At the end of the day, we decided to field, it was a collective decision."
He added that Kambli was dropped purely on form.
When quizzed about match-fixing, Azharuddin said, "Match-fixing case is going on in high court, when my name is cleared everybody will come to know the truth; I am not affected by the allegations."