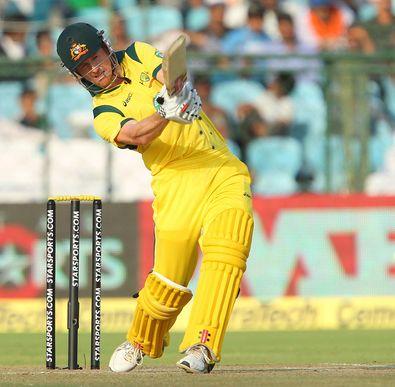 Australia on Wednesday provided only the second instance of five batsmen scoring fifties in a team innings in ODIs.
The only time this had happened before was in 2008 when Nasir Jamshed (61), Younis Khan (79), Mohammad Yousuf (72), Shoaib Malik (63) and Misbah-ul-Haq (55*) scored fifties against Zimbabwe at Karachi.
However, Australia's instance is unique in the sense that all first five batsmen scored fifties together. In Pakistan's case # 2 to #6 scored fifties, with #1 Salman Butt getting run-out on 4.
Most batsmen scoring 50s from top of the order
| | | | | | |
| --- | --- | --- | --- | --- | --- |
| # | For | Vs | Venue | Year | Result |
| 5 | Australia | India | Jaipur | 2013 | To be seen |
| 4 | England | Australia | Birmingham | 1980 | Won |
| 4 | Zimbabwe | New Zealand | Harare | 1992 | Lost |
| 4 | Sri Lanka | Pakistan | Mohali | 1997 | Won |
| 4 | Sri Lanka | Pakistan | Kimberley | 1998 | Lost |
| 4 | South Africa | Zimbabwe | Bulawayo | 2001 | Won |
| 4 | Australia | South Africa | Johannesburg | 2006 | Lost |
| 4 | India | England | Indore | 2006 | Won |
| 4 | South Africa | Zimbabwe | Potchefstroom | 2006 | Won |
| 4 | India | England | Leeds | 2007 | Won |
| 4 | South Africa | India | Ahmedabad | 2010 | Won |
Most 50s for a team in an ODI
| | | | | | |
| --- | --- | --- | --- | --- | --- |
| 50s | For | Vs | Venue | Year | Result |
| 5 | Pakistan | Zimbabwe | Karachi | 2008 | Won |
| 5 | Australia | India | Jaipur | 2013 | To be seen |
-Rajneesh Gupta