Playing two medium pacers on a drab Chennai wicket didn't make sense.
Australia at least could say pace is their strength, but for Team India it made no sense.
The think tank made a blunder when they handed Bhuvneshwar Kumar a Test debut at the expense of Pragyan Ojha, India's best bowler in the series against England.
With his pace, rather lack of it, it would be a surprise if Kumar will ever make an impact in the five-day format.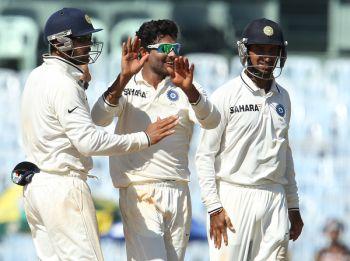 As it happened, Kumar and Ishant Sharma - who happened to hand Kumar HIS Test cap – bowled 30 overs between them in the Australian first innings and failed to make any sort of impact whatsoever.
Having ensured India a healthy lead (192 runs) with a blistering 224, the Indian captain quick to hand the ball to his spinners.
R Ashwin, Harbhajan Singh and Ravindra Jadeja answered to the captain's call and shared the wickets between them, hastening the Australian downfall in the second innings.
Not getting the two medium pacers to bowl much – Kumar didn't bowl at all – in the second innings was, therefore, a smart move. And that is precisely where India, rather Dhoni, got it right.
Photograph: BCCI