The contributions from his blade in both the innings -- 134 and 71 -- played a vital role in helping Rest of India retain the Irani Cup title for an eighth straight year.
It also sufficed to earn him the player of the match honours.
- I'm still good enough to play for Team India: Harbhajan
However, it wasn't enough to make the selectors hand him a Test recall, ahead of the home series against Australia.
As his team mates celebrated the win at the Wankhede stadium in Mumbai on Sunday, Suresh Raina was left to rue the missed opportunity.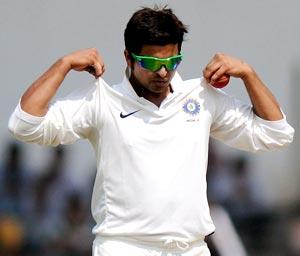 "Disappointed about being overlooked for the first two Tests. I don't know what was lacking," he wrote on Twitter.
A certainty in the shorter formats, Raina is yet to cement his place in the national side when it comes to Test cricket.
Despite scoring a hundred on debut -- 120 against Sri Lanka at the Sinhalese Sports Club in July 2010 -- and averaging a staggering in his first three Tests, the 26-year-old has, in his in 14 Tests since that prolific period, not done enough to impress the selectors. In fact he is yet to score a second Test hundred.
The left-hander hit a purple patch in the series against West Indies in 2011, making 232 runs in three matches (@46.40). However, a disastrous show in the subsequent tour of England, that had him scoring just 105 runs in four matches -- inclusive of a 78 in the opening Test at Lord's -- resulted in him being on the sidelines for about a year.
And even when he did make the cut again, in the home series against a weak New Zealand side last year, he failed to make the most of the opportunity, resulting in his exclusion from the Test team thereafter.
A consistent overall performance in the recent One-Day International series against England where he amassed 277 runs in five matches (@92.33), including four half-centuries and the good run in the Irani Cup revived hopes of a return. Alas, it was not be.
Though disappointed at being ignored, Raina isn't disheartened, and is prepared to do everything possible to work his way back into the side.
"I won't let it (the omission) dishearten me," he added.
Photograph: Pal Pillai/Getty Images