For former Australia [ Images ] fast bowler Mike Whitney, dismissing Sachin Tendulkar [ Images ] twice during the iconic Indian batsman's debut tour Down Under in 1991-92 remains the happiest moment of his short 12-Test career.
"The bloke (Tendulkar) has more than 15,000 Test runs... to have Tendulkar on my list of Test wickets - I'm pretty happy about that," said Whitney, who claimed Tendulkar's wicket twice in that series, which Australia won 4-0.
- When Shaun Marsh kicked the bottle
Whitney, who finished his career with 39 Test wickets, first tasted success against Tendulkar in the opening Test match in Brisbane [ Images ] when he dismissed the champion batsman for 16.
"I bowled him an in-swinging yorker after he smashed me through the covers," he recollects.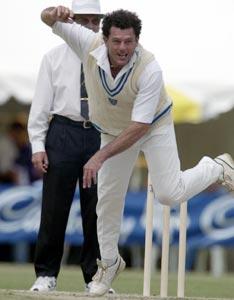 "He came with a bit of a reputation, being so young, and what I remember about him clearly was he was wearing these all-in-one pads that I think Sunny Gavaskar had given to him," he said.
Asked about India's [ Images ] 1991-92 tour of Australia, one thing which immediately comes to Whitney's mind is Tendulkar's brilliant 148 in the Sydney [ Images ] Test, when Shane Warne [ Images ] had made his debut.
"I remember that game because I was picked as 12th man, and Bruce Reid bowled about half-a-dozen overs and broke down," said Whitney, a fast bowler-turned-television personality.
"I had to field, and Tendulkar got 148 and Ravi Shastri got 206. I just remember chasing the ball from one end of the SCG to the other, and being very frustrated that I couldn't bowl, couldn't bat, couldn't take any other part in the game than chasing leather."
Then an 18-year-old, Tendulkar left such an impression on Whitney during his first Australia tour that the former left-arm pacer still remembers the three-day match in which the champion Indian batsman scored 82 in team's first innings score of 209.
"It was pretty much a greentop. I think I took six-for in the second innings. The ball was seaming and swinging everywhere, and (Tendulkar) looked unbelievable that day amongst a collapsing batting line-up," Whitney recollects.