Australian cricket coach Mickey Arthur conceded that his team made a mistake by not going in with two spinners in the lost opening Test against India but it remains a "difficult" selection dilemma for the second match as well due to the pacers' decent performance.
"That's going to be the million dollar question," Arthur said when asked whether the Aussies would go for a two-pronged spin attack in the Test starting in Hyderabad on March 2.
- Rewind: How India strangled the Aussies in Chennai
"It's easy in hindsight having a look at how the wicket ended up you probably would have liked two spinners on there. However, our quicks took most wickets. We didn't get a massive return from spin in this game. I thought James Pattinson was outstanding, so it's a difficult dilemma," he explained.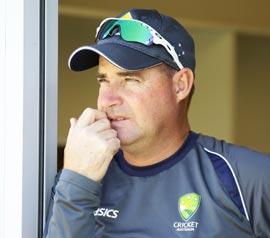 Arthur said the visiting side, which lost by eight wickets in the first Test, is not sure about the bowling attack for the second Test.
"Looking at the way it ended up probably two spinners (would have been good) but our quicks were the most likely out there, so I am not sure which way really," he said.
Xavier Doherty and Glen Maxwell are the other two spin options for the Australians if they decide to go for more than one slow bowler.
"I think on wickets like this balls turning into you are just as effective, because you've actually got to play," Arthur was quoted as saying by ESPN Cricinfo.
"You can't leave balls alone. Balls coming into the bat on wickets that have crumbled are almost as tough to play. Ideally you want both, and I did a lot of looking at the England series and they used Monty Panesar a lot," he explained.
Arthur said the opening Test is a massive learning experience for off-spinner Nathan Lyon, who conceded 244 runs for four wickets.
"I think he has learnt from this game that you have got to be really consistent in conditions like this in order to put the batsmen under any sort of pressure, but I think he will grow and he will learn from this game," Arthur said.
"It will be interesting to see how he pulls up after this Test match and in terms of information and preparation and everything he worked extremely hard coming into this Test match. Only he knows how he will approach things if he plays in the next Test match and how that is going to go."
Photograph: Matt King/Getty Images