While Australia will hope to use local knowledge to their advantage in the fifth Ashes Test at the Sydney Cricket Ground (SCG) next week, debutant Michael Beer has admitted that his contribution will be zero.
Plucked from obscurity to join the Australia squad before the third Test in Perth, left-arm spinner Beer carried the drinks for two Tests without getting a chance to bowl as England took an unassailable 2-1 lead in the series.
That is almost certain to change on Monday at the spin-friendly SCG but Beer gave a reminder on Saturday of just how limited his top class cricket experience has been.
"Experience, I'd say zero, it's the first time I've been inside the SCG today," he told reporters after training.
"I've trained on the training decks out the back before a One-dayer at (the) Hurstville (Oval) and a second XI game at Hurstville but it's the first time I've been out there.
"I really like the ground, and it looks different on TV," he added with a laugh.
"So zero now but obviously I'll talk to a lot of the senior guys and hopefully I'll learn a lot about how to bowl."
With seven New South Wales players, including captain Michael Clarke and vice captain Brad Haddin, in the squad, there will plenty of team-mates to tap for local knowledge.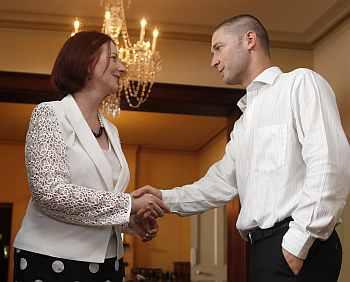 One more familiar face is Beer's fellow Western Australian Mike Hussey, the hosts' standout batsman of the Ashes series so far.
"He's got very good control, he's very disciplined and I think he gets very good revs on the ball as well. He uses drift very well," Hussey said of his 26-year-old team-mate.
"I think what we like about him is that he's got a very level head, he handles pressure situations very well. Having all those attributes mixed in together will definitely help him have success at the highest level.
"It's going to take time to feel comfortable around the team and playing at test level. I remember my first test, I was an emotional wreck. So I hope we don't put too much pressure on him and let him go out there an enjoy it," he added.
Despite the disappointment of missing out on his debut in Perth and Melbourne, Beer said he had relished being part of the test squad.
"It's really enjoyable, I'm loving being around the group and looking forward it," Beer, who had played just five first class games before his Australia call-up, said.
"I'm just looking forward to playing, if I get the nod. I'm looking forward to the opportunity. The series is 2-1, we can still tie the series so there's something to play and obviously it would be a great honour to represent my country.
"Hopefully it will be worth the wait," he added.