All-rounder Shane Watson conceded Australia have all but lost the Ashes on Tuesday and admitted the side's abysmal performance in the fourth Test was enough to turn fans away from the game.
Set a target of 415 to make England bat again, Australia's top order collapsed once more as they had when dismissed for a woeful 98 in their first innings. The hosts limped to stumps on day three on 169-6, still 246 runs in arrears.
The five-Test series is level at 1-1 but holders England need to only scoop the remaining four wickets, three if the injured Ryan Harris opts against batting, to become the first side to win the Ashes on Australian soil in 24 years.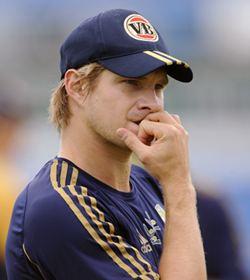 "It's very shattering to be in the position we are now after playing so well in Perth and feeling like we had a big chance of really being in the series and winning the Ashes," Watson told reporters.
"Obviously we will do everything we can to restore the pride and try to draw the series, but in the end the most important thing is actually winning that little urn and we haven't been able to do it.
"We've got to try to restore some pride, it's been extremely disappointing to be able to play the way we have, in Adelaide and here especially.
"Because the Australian fans have come out and supported us and we haven't really given them anything to support.
"We really do have to go up there in Sydney and try to keep some of our supporters and fans on side because, unfortunately with the way we played, we might have turned a few people off."
Employed chiefly as an opener in this series, Watson started brightly with Phillip Hughes as the pair raced to 50 within 10 overs, but was responsible for his partner's run out for 23 before tea.
The loss of his own wicket for 54 immediately after the break triggered Australia's stunning collapse.
Watson also ran out opener Simon Katich in the lost second Test in Adelaide, with England batsman Jonathan Trott doing the fielding work on both occasions.
"It's a horrendous feeling running out a team mate, you'd rather it be yourself," he said.
"I thought there was a run but obviously there wasn't, the gap was closed down quite quickly, so, I'd say it was my fault, yeah."
Watson said Australia would be in for some soul-searching but backed Ricky Ponting to remain captain after the 36-year-old was dismissed for 20, the latest in a poor run of scores since a half century in the drawn first Test.
Ponting stands to become the first Australian captain in over 100 years to lose the Ashes three times.
Watson denied the mental strain of losing the Ashes on home soil had taken toll on Ponting, who earlier apologised for his ugly remonstration with the umpires on Monday over a video referral.
"He's a very, very tough man mentally as he's shown throughout his career. Everyone is and will always be right behind Ricky who's been a brilliant leader for us," he said.
"It hasn't been a perfect time for him on the runs side of things but it's definitely not far away... A few things going his way, he'll be able to turn it around.
"Things aren't going ideal (with the team). There's no doubt there will be some thinking going on to find out the reasons exactly why we've performed the way we have in certain tests and finding ways to go and improve.
"We've definitely got to find ways to improve because it's not great at the moment."