Australia's bid to win back the Ashes after crashing to an innings and 71-run defeat in the second test on Tuesday has been dealt a further blow with opening batsman Simon Katich likely to miss the rest of the series with an achilles injury.
Katich was clearly in pain, hobbling between wickets, as he made 43 in his second innings at Adelaide Oval on Monday and he is a doubt for the remainder of the five-test series, which England lead 1-0.
"I went into this test feeling fine but unfortunately having spent that amount of time out in the field and chasing the balls that I did, it got to the point where it was pretty unbearable to just even be walking around," he told reporters.
"There's obviously a lot of factors but I will do everything I can to try and play test cricket again."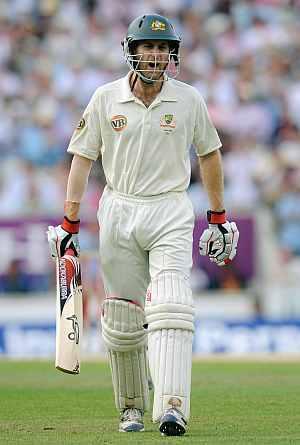 The team's physiotherapist, Alex Kountouris, said in an earlier statement that the nature of the injury meant Katich participation in the series was doubtful.
"Achilles tendinopathy can be a complex injury and based on Simon's current symptoms and results of a scan undertaken last night, it is unlikely that he will be available to play any further part in this ... Ashes series."
AGE A FACTOR
Katich, 35, hit a half-century in Brisbane but was run out for a duck during Australia's disastrous start to their first innings in Adelaide. He faces months on the sidelines but was defiant about reclaiming his place in the side.
"Obviously my age will be a factor but I haven't looked at it like that in the past few years because the last two and a half years of my career have been my best regardless of my age," he said.
"So I don't see this as being the be-all and end-all of whether I make it back or not," he added.
Phillip Hughes, who was dropped after two Tests during Australia's Ashes loss on tour last year, would be in line to replace Katich, Australia captain Ricky Ponting said.
"He's probably first cab off the rank if you like, that the selectors will be talking about," Ponting said of the 22-year-old, who was softened up by England's quicks last year.
Although rated one of Australia's brighter batting prospects, Hughes's struggles with short-pitched bowling could be amplified at the WACA ground in Perth, where tracks are notoriously fast.
"We've got our plans in place for him," said England captain Andrew Strauss of Hughes, who scored two and 81 against an England XI in Hobart last month.
"He's obviously worked a bit on his technique ... but I think there are weaknesses there that we can exploit, definitely," he added.