Young Armaan Jaffer made headlines on Thursday.
The 14-year-old scored a mammoth 473 for Rizvi Springfield in the Harris Shield final against IES VN Sule Guruji at the Matunga Gymkhana.
- Wasim Jaffer's nephew sets new school record
The knock bested the previous best of 439, by the same school's Sarfaraz Khan in 2009.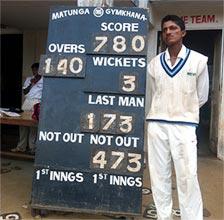 The seven-and-a-half hour innings was inclusive of a whopping 65 boundaries and 16 sixes and made him the highest scorer in the history of the competition.
- Mumbai kid Shaw ready to take guard in Manchester
However, it wasn't Armaan's overall best. The 14-year-old had made 478 against Raja Shivaji School in a Giles Shield match in 2010.
Thanks to his mammoth effort, Rizvi reached 823 for five in reply to IES Sule Guruji's first innings score of 353.
Siddharth Singh also helped the Rizvi cause with a magnificent 177, helping Armaan add 631 runs in the process.