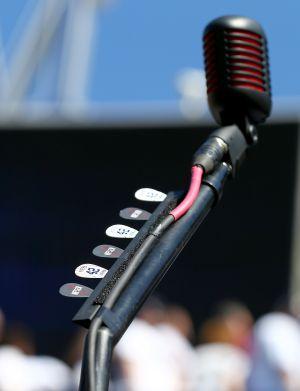 Cricket Australia has stood down a ground announcer for mocking England players during their two-day tour match against a Chairman's XI in Alice Springs, local media reported on Saturday.
David Nixon was sanctioned after introducing England spinner Monty Panesar in an Indian accent, the Australian Associated Press said in a report.
"Cricket Australia deemed the conduct of the PA announcer as inappropriate and as such he will take no further part in the match," an unnamed CA spokesperson was quoted as saying in the report.
Left-arm spinner Panesar was born in Luton and is of Indian descent.
Nixon was also cautioned by CA on Friday for a jibe aimed at England batsman Joe Root, the report added.
Root was involved in a bar-room altercation with Australia batsman David Warner during this year's Ashes series in England.
"You can go and have another drink now, Joe," Nixon commented when Root was dismissed.
Photograph: Elsa/Getty Images