England captain Andrew Strauss on Thursday blasted Middlesex batter Owais Shah after he injured Kent batsman Joe Denly in a tackle during a warm-up football match.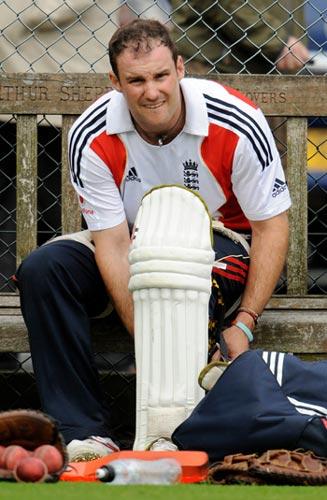 Denly collapsed in agony clutching his left knee and was taken to hospital following a challenge by Shah during the kickabout.
Strauss was furious as Shah clattered into Denly despite a strict ''no-tackle'' rule imposed by the team management.
The Sun quoted the skipper said: "You'd like to think the players would be sensible enough in the warm-ups not to take it too far. But I think they did today. When we play football, we have a no-tackling rule but I'm not sure it was heeded."
Denly, 23, is not the first England ace to be injured playing football in recent years.
James Anderson twisted his ankle in a warm-down during a Test in New Zealand two winters ago and left on crutches.
He bowled the next day but was below full capacity.
Denly is out of Friday's NatWest Series opener against Australia at the Brit Oval - and could be struggling to play in the remaining six games.
A specialist will reassess him on Friday.
Strauss revealed he would consider banning football at the start of England's practice sessions in future.