The lawyer of Pakistan's suspended Test bowler Muhammad Amir feels that his client has a good chance of being exonerated of spot-fixing charges when the International Cricket Council anti-corruption tribunal announces its verdict on February 5.
"This time the tribunal has taken time to announce its decision, I see it as a silver lining for Amir," Shahid Karim said after reaching Lahore from Doha, where he had gone to attend the six-day tribunal hearing.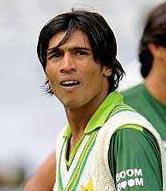 The Pakistani lawyer said the hearing had gone well and the time the tribunal was taking indicated it wanted to be very clear about its verdict.
"The tribunal has exonerated Amir and Mohammad Asif of all charges relating to the Oval Test against England last year and I am hoping they would also be exonerated for charges brought against them by the ICC for the Lords Test," Karim added.
The Lahore-based lawyer said that he himself had requested the tribunal to defer their decision and take their time to reach a conclusion after studying all the evidences, statements made at the hearing.
"I am happy with the procedure of the hearing," he said.
Karim said he was hopeful of his client being discharged, considering the player's age and past disciplinary record.
"Amir handled himself well at the hearing and left a good impression. I hope the tribunal takes into consideration his young age and past record.
Pakistan's suspended Test captain Salman Butt, who also returned from Doha declined to offer any comments, making it clear that the ICC had directed the players not to speak to the media.
However, Amir said he was happy with the way the tribunal proceedings had gone.