The occasion of Eid ul Fitr is set to be a memorable one for Wasim Akram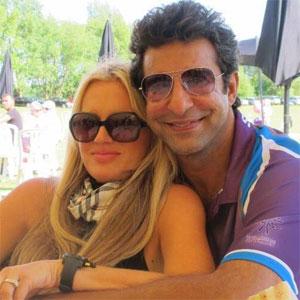 For the first time in four years, since the demise of his wife Huma in 2009, the former Pakistan skipper has company in his Aussie fiance, Shaniera Thompson, to celebrate the festival.
Shaniera, who has started cooking Pakistani dishes, said that she was happy to stay in Pakistan and would love to celebrate Eid ul Fitr in the country with zeal and zest.
The 47-year-old cricketing icon who arrived in Pakistan with Thompson on Wednesday said she would have no problem living in conservative Pakistan, the Nation reported.
Akram also revealed that he had sought the blessings of Huma's parents.
Photograph: Twitter