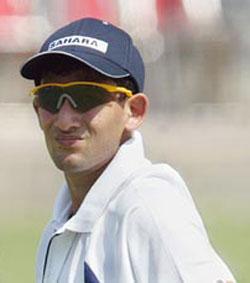 Mumbai pacer Ajit Agarkar has been fined 50 per cent of his match fees for showing dissent after being given out during his side's ongoing Ranji Trophy final against Karnataka at the Gangotri Glades in Mysore.
Match referee Ramesh Subramonium reprimanded Agarkar after he had contested his run out decision on Monday, which had been referred to third umpire S Ravi.
The Indian pacer had remonstrated at the square, arguing with on-field umpires Amiesh Saheba and Sanjay Hazare after his dismissal.
"Agarkar has been charged under BCCI Code of Conduct Level One offence. When given run out, there was an obvious delay in leaving the wicket and he also entered into a prolonged discussion with the umpires.
"This is an offence showing dissent at an umpire's decision. As per BCCI guidelines, the penalty imposed for the offence is an official reprimand and a fine of 50 per cent of the match fee," match referee Subramonium said in a statement.